Texas coaches swear they sharing play-calling duties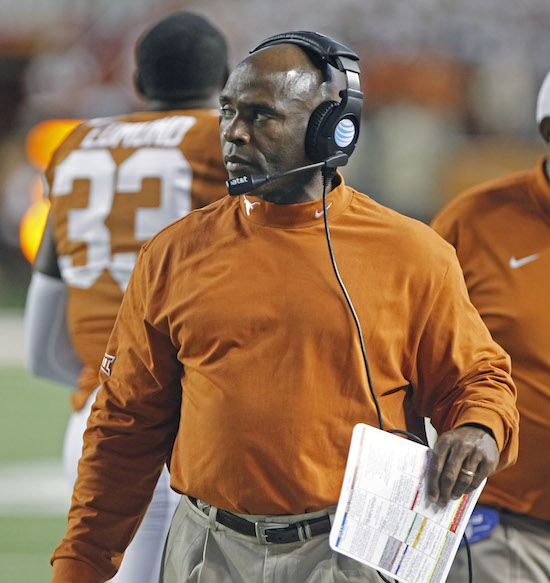 Hang on for a minute...we're trying to find some more stories you might like.
AUSTIN, Texas — The $600,000 question at Texas is just who calls the plays for the Longhorns' anemic offense.
Assistant head coach Shawn Watson says he does. Offensive coordinator Joe Wickline says he does too. In fact, they swear they share.
And head coach Charlie Strong? Well, he says they both do, "And I'm on the headset."
But when asked who called most of the plays in a 31-7 bowl game thrashing by Arkansas, when Texas managed just 59 total yards, Strong said, "I don't know."
Strong and his assistants served up a deep and confusing dive into Texas' pregame planning and game day play calling in depositions given March 11-12 in a breach-of-contract lawsuit filed against Wickline by Texas' Big 12 rival Oklahoma State. Copies of their sworn testimony were obtained by the AP through open records requests.
Each coach still has a chance to review their deposition and file corrections or clarifications with the court.
The lawsuit pending in Payne County, Oklahoma, seeks to prove that it's Watson, not Wickline, who controls play calling for the Longhorns. Prove that, and Oklahoma State hopes to force Wickline to pay nearly $600,000 for making a lateral move to Texas and not taking a promotion with "play-calling duties" as stated in his previous contract.
The University of Texas has not been named as a defendant in the case, but the lawsuit has kicked up a rare legal fight between league rivals capable of peeling back several layers of insight into closed door strategy meetings at big-time programs.
And there could be more coming. Oklahoma State attorneys suggested they could seek statements from several former Longhorns players and assistant coaches.
In his sworn testimony, Strong couldn't give a percentage of plays called by Wickline. But all three coaches insisted Wickline has a vital role in deciding whether to run off tackle or to the outside, both in the pregame scripts crafted in weekly strategy sessions and from the sideline after kickoff.
Wickline was the most combative, regularly sparring with the Oklahoma State lawyer during his interview.
"I'm a decision-maker. I make calls. I call plays," Wickline said.
All three said it's Watson's job to call pass plays and Wickline's to handle the running game. And in games when Texas has a big lead, Wickline's role grows.
"If you're playing someone and you just beating the brakes off them, we'll probably run the ball to get out of there. So he's going to handle the play calling," Strong said.
Presumably, those were the five games Texas won by at least 17 points. They also lost five by 21 or more.
And the paltry 43 plays against Arkansas? Who called most of those? For the record, Texas ran 18 times against Arkansas for 2 yards
"I don't want to remember that game, we were so bad," Strong said.
All the coaches described a week of offensive staff meetings to draw up a game plan. Watson takes charge there.
"When I walk in the room, I get it started," Watson said.
He said it soon turns into collaboration, all the way through the script drawn up for the first plays of the game. But even that was confusing. Strong put the number of scripted plays at 20. Watson had it more like 25. Wickline said up to 30.
"When we do our opening script, you know, he gives me his opening runs that he likes, then I, you know, we merge it with the passing game," Watson said.
Watson and Wickline described a plethora of down-and-distance and field-position charts that are consulted throughout the game, all drafted with help from Wickline.
And even in the chaos of live action, the coaches insist there's time for Wickline and Watson to size up downs, momentum shifts and clock management to discuss what play to send into the quarterback — all within the 40-second time limit of the play clock.
But Oklahoma State lawyers question whether Wickline regularly wore a headset until after Oklahoma State filed its lawsuit last October. They also questioned why Strong and Watson would meet with Wickline attorney David Beck, who last month was appointed a University of Texas System regent, the day before giving their depositions.
Strong said they discussed the basics of the lawsuit, but he insisted he did not rehearse answers to questions.
Watson acknowledged he's the one who sends the play to the sideline to be signaled to the quarterback.
"It can only come out of one mouth," Watson said.
In every game? "Yes."
For every play? "Yes."
Watson said he "usually" listens to Wickline and didn't recall ever overriding his run play call.
"I've leaned toward Joe," Watson said.