About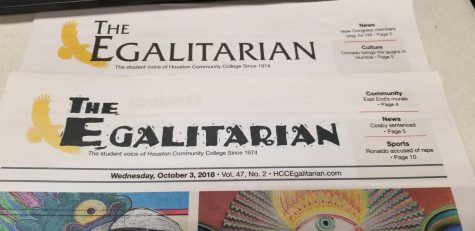 The Egalitarian is written and produced by students to promote the free exchange of ideas and information. The newspaper staff maintains a high standard of writing and journalistic excellence. The Egalitarian is open to all currently enrolled HCC students at all HCC campuses regardless of their major.
The hard-copy of The Egalitarian will be printing every three weeks in Spring 2019, and the paper is constantly publishing online. New writers, photographers, editors, cartoonists and other contributors are always welcome.
Meetings are every Tuesday at 11 a.m. in the newsroom at HCC's Central Campus:
Fine Arts Center, Room 302, 3517 Austin St. Houston, TX 77004.
Current Staff (Spring 2019)
Head Editor: Ana Gonzalez
News Editor: Esmeralda Rocha
Sports Editor: Joey Garcia
Culture Editor: Virginia Grant
Staff Writers: Jazmin Sanchez, Vivian Reyes, Sarah Al-Shaikh
Staff Photographer: [Vacant]
Social Media Manager: [Vacant]
For more information, contact Fredrick Batiste at 713.718.6016 or e-mail at [email protected]