HCC Newspring Business Plan Competition Training Session Highlights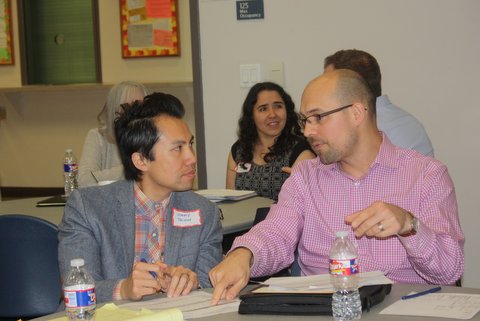 The HCC Newspring Business Plan Competition contestants are well on their way to success.
The program is open to entrants who want to turn their business idea into a serious business and those embarking on a growth plan. It's hosted by the HCC Northwest Center for Entrepreneurship at the Spring Branch campus.
Last year's winners won prizes ranging from $1-12 thousand. This year's participants were selected in January and the winners will be announced at the business plan awards ceremony and reception on April 26.
Newspring conducted five training sessions from February through March for contestant teams and their business advisers about the required focus and planning to write their business plans and move effectively through the competition.
Sessions were conducted by competition leaders Jack Barry, Robert Westheimer and Richard Tyler and hosted at HCC Spring Branch by Center for Entrepreneurship Director, Sandra Louvier and her team.
On Feb 2, the first training session kicked off with nearly 100 people packing the HCC Spring Branch Eagle Room as mentors and contestants met each other and teams introduced themselves.
Program Leader Jack Barry launched into interactive training regarding the key reasons businesses fail, how to successfully communicate the business opportunity in the written plan and verbally.
After the training session, most teams sat down for one-on-one mentor and contestant team meetings to process the learning and to apply it directly to their own evolving business plan assumptions.
The second training session on Feb. 9 featured specialized elevator pitches, one-on-one mentor and team meetings and interactive training about the thought processes crucial in planning, establishing and growing a business based on sound market, product and service differentiation, and well-defined revenue generation, sales and marketing strategies.  
In the third training session on Feb 16, Barry focused on developing a business model with a reasonable return on investment.