Alice Coachman: jumping into history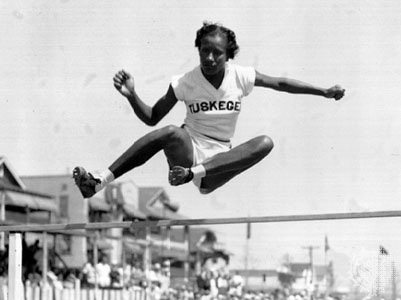 With a height of 5 feet 6 1/8 inches Alice Coachman jumps over the high jump bar and into the record and history books as the first African American female to win an Olympic Gold Medal.
Alice Coachman was born on November 9, 1923, in Albany, Georgia. She was the fifth of ten children born to Fred and Evelyn Coachman.
Coachman grew up in the segregated and unjust South of the 1920's and 30's. She however, did not let the fact that she was barred from public sports facilities stop her from training. Coachman would run barefoot down the dirt roads and used whatever materials she could piece together to practice her high jumping.
In high school, Coachman won numerous national championships in track and field.
While at Tuskegee University, she won national championships in the 50-meter dash, the 100-meter dash, the 400-meter relay, and the high jump. She also played on the Tuskegee women's basketball team, where she won three championships.
In 1948 at the Olympic Summer Games in London, Coachman defeated all of her competition on her first jump in the final round with the height of 5 feet 6 1/8 inches. With that jump she became the first African American woman to win a gold medal.
When asked what Coachman means to the university, Tuskegee Track and Field Head Coach Higdon said, "She means everything. She means tradition. She means history. She means legacy. She means hard work and dedication."
Higdon requires all athletes to learn the history of Coachman and other alumni of the school as part of his track program.
The Tuskegee athletic department also awards an Alice Coachman Award every year to the best female athlete both off and on the field. To earn the award, a minimum of a 3.0 GPA, community service and excellence in competition are required.
A scholarship is not in place at this time, but one is being created by Coach Higdon and staff.
Higdon reflected on afternoons when Coachman would show up to practice and speak to all the athletes on the track and fill them with words of encouragement.
"My favorite thing about her [Coachman] was she said she would think at every event," Higdon recalled, "'I am the best out here.' Then would go out and beat everyone, return home and do her chores and read her books."
In 1996, during the Atlanta Olympic Summer Games, Coachman was named to the 100 greatest Olympians and in 2004 she was inducted into the U.S. Olympic Hall of Fame.
Coachman died in her hometown of Albany on July 14, 2014, at the age of ninety.