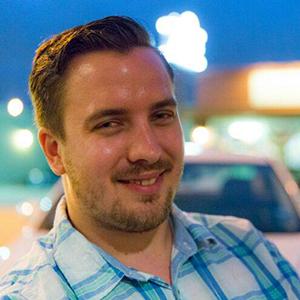 You can reach him at fbrims@hccegalitarian.com
Fabian reviews movies for The Egalitarian. Fascinated by movies since early childhood, he was always interested in anything connected the film and television world. After years of studying, internships and seminars he will direct his first short movie later in 2016.
After graduating in Germany and a few years of working, Fabian decided to try his luck in the New World, and Houston became his new home. Hot weather, tacos and brisket ensured he never regretted his decision to move to Texas, and he will make sure that HCC students know what movies and TV shows are worth watching.
Fabian Brims, Staff Writer
Feb 18, 2018

'15:17 to Paris' is an interesting experiment that ultimately fails

(Story)

Feb 02, 2018

"Hostiles" is a grand western with questionable morals

(Story)

Jan 11, 2018

Spielberg's 'The Post' revives the thrill in political thrillers

(Story)

Nov 16, 2017

HCC mourns over loss of Mark Chavarria

(Story)

Nov 16, 2017

'Darkest Hour' is a gripping war of words

(Story)

Nov 16, 2017

"The Florida Project" is a quiet movie with huge impact

(Story)

Sep 15, 2017

'Wind River' will make your blood freeze!

(Story)

Aug 01, 2017

Dunkirk – Another Awesome Review

(Story)

Jun 20, 2017

The Book of Henry

(Story)

Jun 13, 2017

'The Mummy' curses Universal's new franchise

(Story)

Apr 26, 2017

SXSW Quick Bites: 12 movies you should watch (or not)

(Story)

Apr 21, 2017

Fate or fade? 'Furious' Franchise steers toward crossroads

(Story)

Apr 18, 2017

Zach Braff is 'Going in Style', arrives in mainstream

(Story)

Apr 06, 2017

James Franco's new meta-masterpiece debuts at SXSW!

(Story)

Mar 27, 2017

'Song to Song' is quite off-key!

(Story)

Feb 24, 2017

'Fist Fight' can't land many punches

(Story)

Feb 22, 2017

John Wick is back!

(Story)

Feb 13, 2017

Good boy! But the movie?

(Story)

Jan 27, 2017

Let's twist again – M. Night Shyamalan is back!

(Story)

Dec 15, 2016

Rogue One – A new Hope for Star Wars Fans

(Story)

Nov 30, 2016

"Tell the Judge I love my wife!"

(Story)

Nov 21, 2016

Promising Amazon show ultimately can't deliver

(Story)

Nov 14, 2016

Showdown in the Desert: 'Desierto' lets your blood freeze

(Story)

Nov 07, 2016

Denial: An important movie at the right time

(Story)

Nov 05, 2016

'Moonlight' – hard to watch but worth it!

(Story)

Oct 14, 2016

'The Accountant' is one you can count on

(Story)

Oct 06, 2016

New Movie Remembers the Deepwater Horizon Catastrophe

(Story)

Sep 20, 2016

Morris from America: A true feel-good movie

(Story)

Sep 15, 2016

Complete Unknown: A diffuse Character Study

(Story)

Sep 15, 2016
Sep 14, 2016

"Embrace for Impact" – 'Sully' is the Movie of the Year (so far)

(Story)

Aug 01, 2016

Wiener Dog: A Dark Comedy

(Story)

Jul 14, 2016

Bryan Cranston goes undercover in 'The Infiltrator'

(Story)

Jul 10, 2016
May 23, 2016

'All the Way' adapts play

(Story)

May 18, 2016

The Force is strong in Houston

(Story)

May 11, 2016

Students experience WorldFest

(Story/Media)

May 05, 2016

'Papa' brings Hemingway to life

(Story)

Apr 23, 2016

WorldFest showcases indie movies

(Story/Media)

Mar 11, 2016

In the shadow of Rockets

(Story)

Feb 22, 2016

'Blue Steel' back on the big screen

(Story)

Nov 06, 2015

'Spotlight' shines light on scandal

(Story)

Sep 18, 2015

Realistic 'Everest' impresses

(Story)