What is Morgan?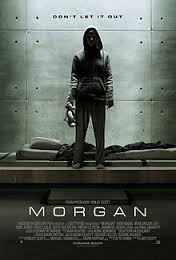 Morgan is the feature-debut from Ridley Scott's son Luke Scott. In this minimalistic science-fiction-thriller a team of scientists created a genetically modified human: a young girl named Morgan. Only one month after conception, she can walk and talk and then is completely self sufficient after half a year. However, when she brutally attacks one of the scientists, the project is in danger. The corporation responsible for these experiments sends in a risk-management consultant to find out if Morgan needs to be terminated or if there's a chance she can find her way into the real world. For the scientists Morgan is like a daughter, but for the corporation she is just an asset that needs to be controlled.
Even though it's a debut-film, the cast is excellent; being Ridley Scott's son surely opened many doors for the first-time director, who worked several times as second unit director for his father. Kate Mara stars as Lee Weathers, the corporate troubleshooter, and Morgan is portrayed by the shooting star Anya Taylor-Joy, who just had her break-through in the thriller 'The Witch'. Both women do an excellent job and easily shoulder the movie with their performances. The supporting roles feature Paul Giamatti, Toby Jones, Michelle Yeoh, Jennifer Jason Leigh, Boyd Holbrook, and Chris Sullivan, as well as Michael Conolly and Brian Cox in short cameos. This large number of stars could easily distract from the movie, but Luke Scott did a good job from his directing chair, while his well-experienced father handled the production. However, there are also a few scenes that don't go well within the movie: the lab is not safe enough to contain the super human Morgan – just three doors aren't enough to contain her. Additionally I found Paul Giamatti's character completely misplaced. A well-experienced youth psychiatrist wouldn't scream at a fearful child that just had a violent episode, but at least it works to bring the story forward, so it can be forgiven and the movie is exciting enough to make the few plot holes forgettable until the credits roll.
The R-rated movie has parallels to 'Ex Machina' or 'Firestarter' but towards the end it gets more original. Seth Owen wrote the screenplay that was featured in the 2014 Blacklist of Best Unproduced Screenplays. Even though the film mostly plays in the underground lab – where Morgan lives – and the house next to it, where the scientists reside, the plot never feels stunted. This research center is hidden in a forest far away from civilization, and they filmed these stunning nature shots in Ireland. The movie's art direction is very simple but effective. The lab is very basic and functional, with bare concrete walls and lots of glass. This structure works as a contrast to the nature and the older farmhouse. They created a realistic environment that could easily exist somewhere in a remote forest.
The 91 minutes went by very fast and the realistic production design together with an excellent cast and direction made for a very realistic and suspenseful ride. The father-and-son-team did a very good job, and I hope they will make a few more good movies together in the future.