'Papa' brings Hemingway to life
Ernest Hemingway is one of the greatest authors of all time, yet there aren't many movies about him or his books. If he would have written comic books, I'm sure this would be different.
Bob Yari's new movie, 'Papa – Hemingway in Cuba' doesn't only bring back the author of 'The Old Man and The Sea', it is also the first Hollywood production to be shot in Cuba. The script was written by Denne Bart Petitclerk, who was the real reporter befriending Hemingway back in 1959.
Since the end of the Revolution in 1959, the United States upheld an embargo against Cuba. It was only last year that President Obama softened these sanctions. It's these times in the late fifties when the true story this movie depicts, took place.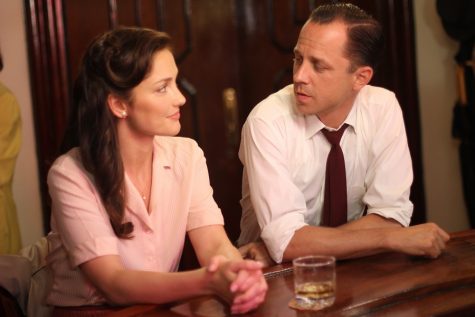 The young reporter Ed Myers (Giovanni Ribisi) works for the Miami Herald and since early childhood, he has been a huge fan of Ernest Hemingway. After his parents abandoned him during the great depression, Myers searches desperately for a father figure and finds it in Hemingway.
He writes a letter, but is too afraid to mail it, until his colleague Debbie (Minka Kelly) finds it and sends it for Myers. Hemingway (Adrian Sparks) actually likes the letter, and invites Myers to visit him and his wife Mary Hemingway (Joely Richardson) in Cuba, where the young reporter has to learn that all idols look different when you get close to them.
There are many great things about this movie, but for me the most outstanding part were the sets. The movie is filmed on location in Havana and at Hemingway's actual home, which grants a great deal of authenticity.
Since the embargo to Cuba stopped, the houses, the cars and the streets look almost exactly as they did in 1959. The production crew had to go through great lengths to get the permission to film, but it was all worth it.
Also, the acting in this movie was excellent. Stage actor Sparks steals every scene. When he walked through Havana in his costume, people actually confused him for the real author, who was just called 'Papa' by his friends and admirers.
Ribisi and Richardson also play their parts with bravour. Only Minka Kelly's role as the reporter's love interest stays one-dimensional, the screenplay doesn't give her the chance to shine.
There are some clichés, especially about Myers' relationship with Debbie, but overall the script feels natural, especially when Adrian Sparks shows us Hemingway's darker sides—you almost forget you're watching a movie.
I also liked the soundtrack, which was composed by the great Mark Isham. It was subtle yet emotional and built the perfect musical background for the movie. I also liked that it often feels more like a documentary, like watching the real Hemingway. Just for that all the production's efforts paid off.
A true story, beautiful cinematography, original Cuban locations, great dialogues and amazing actors—there is not much negative to say about this film. If you would to time travel to Hemingway's Cuba and meet the famous author, this is your chance!
Papa – Hemingway in Cuba (USA, 2015) Directed by Bob Yari, with Giovanni Ribisi, Adrian Sparks, Joely Richardson, Minka Kelly, James Remar. Starts April 29.