The Force is strong in Houston
Hang on for a minute...we're trying to find some more stories you might like.
The Star Wars Art Festival returned to Houston May 6-8. Dandee Warhol and his crew from the War'Hous Visual Studios worked for months to bring back the popular show, and once again it was an overwhelming success for Houston's art scene.
An old, graffiti-covered warehouse in the East End became a focal point for artists, fans, cosplayers, and vendors to celebrate one of the most popular movie series of all time: Star Wars.
In 2012, Warhol curated the first Star Wars art show, and since then it constantly grew in size and public appreciation, and this year in 2016 almost 8,000 people followed the event on Facebook.
Hundreds of art pieces from local artists were shown and sold – from classic paintings to sculptures to body painting and even a whole star wars "altar," crafted by Houston-based artist Alex Ramos.
Like all the years before, there were also plenty vendors on board to sell all kinds of merchandise such as t-shirts, prints, action figures and jewelry. Some of Houston's best DJ's played music, and food trucks made sure no one had to go home hungry.
The fans, many of them in costumes as Stormtroopers, Han Solo, or Darth Vader had plenty to look at and some of them took the opportunity to bring their families since the show was open to all ages.
The secret behind the success is the diversity of the festival. Warhol's curating doesn't overlook new young artists, and for a handful of them it was the first time ever showing art publicly. Others have exhibited at the festival since the very first year. While other galleries focus more on established artists, War'Hous always pushed for new and fresh art, and the success proves them right.
Since the movie series returned to the big screen this year with The Force Awakens, there were plenty new characters, robots and spaceships to be used as new content.
The new fan-favorite BB-8 especially created a lot of buzz among the artists. There was a whole wall reserved just for interpretations of this little ball-shaped android. R2D2 was hopefully not overly jealous. By now, seven movies and many spin-offs in the form of books, comics, and TV-shows, there's an unlimited supply of inspiration. That's what makes George Lucas's universe so attractive for artists all over the planet. More and more art shows pop up, but Warhol is one of the few curators who is allowed by Disney, the owners of the franchise, to use it officially.
One of the novelty of this year's festival was a VIP opening night and a professional parking system, even though the organizers suggested to use the new built Metro line to the East End. The new location also turned out to be better equipped to hold a large number of people while fire inspectors and police officers ensured the safety of all visitors.
It was so far the most professional event of the series organized by Warhol and his crew and it is likely that the show will grow even bigger by 2017. See you next year for the return of the sixth!

About the Writer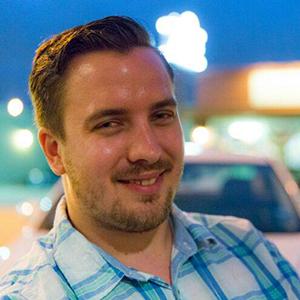 Fabian Brims, Staff Writer
You can reach him at fbrims@hccegalitarian.com

Fabian reviews movies for The Egalitarian. Fascinated by movies since early childhood, he was always...