'Darkest Hour' is a gripping war of words
Hang on for a minute...we're trying to find some more stories you might like.
When a movie is based on real events, one of the biggest challenges is to tell an exciting and suspenseful story even though the audience already knows the ending. This is a particular problem in period pieces, where some historical knowledge can quickly turn into a movie spoiler, but director Joe Wright is a specialist in this field, having made "Pride and Prejudice," "Anna Karenina" and "Atonement."
In "Darkest Hour," he tells us the story of the newly elected Prime Minister of Great Britain Winston Churchill, portrayed by Gary Oldman, and how he dealt with the toughest decision of his career: to surrender to the Germans, or to fight against fascism in Europe.
It's 1941, and World War II is in full force. Nothing seems to be able to stop the Nazi forces in their pursuit to conquer Europe, and with the United States still hesitating to enter the war or even to provide ships, Great Britain is left without any alliances. With their soldiers trapped at the beaches of Dunkirk, the proud nation faces a political crisis at home. After Prime Minister Neville Chamberlain steps-down from his office, Winston Churchill is not the most popular candidate, but the only one who has the support of both major parties. He has to deal with a divided country: some are sick of war and support peace negotiations; others see that as treasonous. When the "Darkest Hour" approaches with the Germans closing in, Churchill has the right ideas and manages to unite the country in the face of annihilation.
"Darkest Hour" is a one-man-show, and this man is Gary Oldman. His performance is breathtaking as he completely transforms into the famous British politician. The portrayal of this character is perfect – from the way he talks and moves to the Oscar-worthy makeup. The whole movie circulates around Oldman as he is in almost every scene. While his presence overpowers the rest of the cast, the other actors give also stunning performances, especially Ben Mendelsohn as King George VI, Ronald Pickup as the former Prime Minister Chamberlain, and Kristin Scott Thomas as Churchill's wife Clementine.
Joe Wright also does a terrific job directing the movie. He knows exactly how and when to create suspense and makes the most of the dialog-heavy script with its few locations. Most of the movie takes place in the war room and the parliament; instead of gun battles, the fights are fought with words. It's not easy to make an exciting movie out of this, but Wright succeeded.
The makeup department also deserves a special mention; Gary Oldman is not recognizable anymore, except for his eyes. He had to spend the majority of his day getting plastic attached to his face. Like in "All The Way," where Bryan Cranston transformed into Lyndon B. Johnson, the makeup artists create a perfect illusion. These high-tech prosthetics enable the actor to make facial expressions and let him act, not just wear a mask. The actor Gary Oldman and the makeup artists David Malinowski and Kazuhiro Tsuji are among the top candidates in this year's Oscar race.
Being the second movie about the famous Prime Minister this year, after "Churchill" with Brian Cox, and also the second movie to depict the events of Dunkirk, "Darkest Hour" is still truly original and deserves its place. As a perfect addition to Christopher Nolan's masterpiece – the p.o.v. is now on the other side of the Channel – the film creates a wholesome view on the decisive days of World War II. The intense script and nearly perfect art direction and acting culminate in a must-see movie for history buffs and people interested in politics that focus on diplomacy.
9/10
You will like "Darkest Hour" if you liked these movies:
Dunkirk, Thirteen Days, The King's Speech, Good Night and Good Luck
Darkest Hour (2017)
Directed by Joe Wright
Written by Anthony McCarten
With Gary Oldman, Ben Mendelsohn, Kristin Scott Thomas, Lily James, Stephen Dillane, Ronald Pickup
Cinematography by Bruno Delbonnel
Music by Dario Marianelli
125 min, PG-13

About the Writer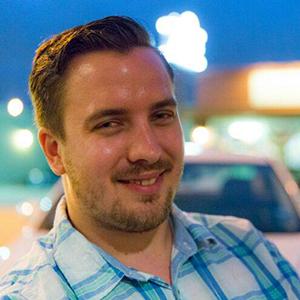 Fabian Brims, Staff Writer
You can reach him at fbrims@hccegalitarian.com Fabian reviews movies for The Egalitarian. Fascinated by movies since early childhood, he was always interested in anything connected the film and television world. After years of studying, internships and seminars he will direct his first short movie later in 2016. After graduating in Germany and a few years...