REAL World Circus – Kurios by Cirque du Soleil
We all make mistakes; whether it's dropping a cup, spilling some water, maybe you forget your keys and get locked out of your car, or you drop your phone and crack your screen. We all make mistakes, and I can say with confidence, we make mistakes everyday. But, for the performers of Cirque Du Soleils' Kurios, Cabinet of Curiosities, one small mistake will cost them their lives.
Cirque du Soliel was founded in 1984 by two men, Guy Laliberté and Gilles Ste-Croix. In 1979 Guy Laliberte met Gilles SteCroix and Daniel Gauthier who where running a youth hostel for street performers. The three of them organized a summer fair in Baie-Saint-Paul. The three of them had dreams of creating a troupe that would travel and perform. Their only obstacle, of course, was money. So, Gilles SteCroix decided to perform a publicity stunt by walking on stilts from Baie-Saint-Paul to Quebec City, a 56 mile journey. The publicity stunt got the attention of the Canadian government and landed them a small grant that helped them fund their small troupe called, Les Échassiers de Baie-Saint-Paul.
Although their venture was a total financial failure, they continued to perform and ask the Canadian government for funds. Finally in 1983, the Canadian government gave them $1.5 million to create a show to celebrate the French explorer Jacques Cartier's discovery of Canada, marking Quebec's 450th anniversary celebration. Guy named the show, "Le Grand Tour du Cirque du Soleil," and thus was born Cirque du Soleil. At first, this was only to be a one year 11 show run, but after the year ended and with a profit of $60,000.00, Guy and Gilles decided to ask the Canadian government for another round of funding. They met some resistance, but finally in 1984 where given the funding and the rest is history.
Cirque du Soleil is now on it's 33rd year and is now performing in over 270 cities with over 5,000 employees bringing in more than $800 million a year in income.
What makes Cirque du Soleil so special is that it employees performers from over 40 countries and produces everything in house. They start off with an idea, developing a story, hiring performers, creating the music and costumes from scratch and performing everything live.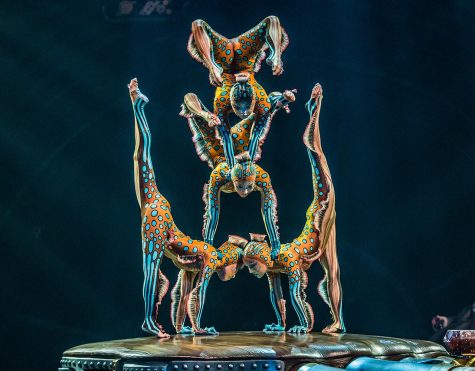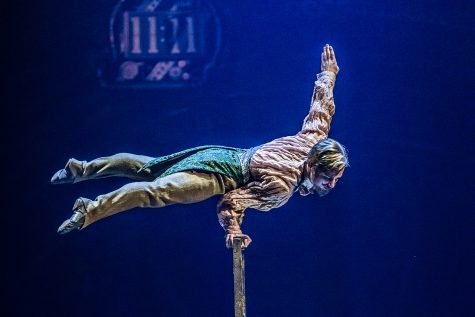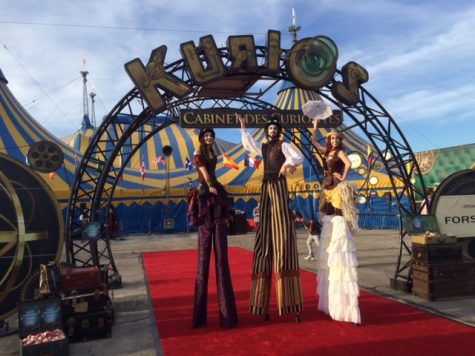 This year in Houston Kurios, Cabinet of Curiosities is playing at the Sam Houston Race Park from April 6, 2017 – May 21, 2017 with tickets starting at $35.00 a seat.
With Kurios, you "step into the curio cabinet of an ambitious inventor who defies the laws of time, space and dimension in order to reinvent everything around him. Suddenly, the visible becomes invisible, perspectives are transformed, and the world is literally turned upside down."
The show starts the second you walk through the front gate, with performers performing atop the huge tent and performers on stilts passing out clown noses. Once seated, you'll see many different shows, each with it's own theme and performers all tied together by the "inventor." Some shows are creatively "safe" and entertaining, like the invisible circus, or the man wanting a date; some are wildly amazing, like the contortionists; and some are life threatening acrobatics with performers zooming through the air, three stories high.
With the "Upside Down World," "dinner guests are stunned by the telekinetic powers of one of their table companions who can make a chandelier suspended above their heads move. Another guest challenges him by piling up chairs in an attempt to reach the chandelier. All of a sudden, the group realizes that their exact double exists in a parallel universe right above them where the same scene is unfolding… but upside down!"
Each performance with it's own title and story mesmerizes one. Each performer, with their amazing strength and acrobatic abilities; like a ballet flying through the air.
Though the performances are life threatening, Cirque du Soleil has only had 3 deaths since 1984, one of which was an accident while constructing the tent, one during a performance and the third during training. It's amazing that with a history of 33 years, performing death defying acts that have an extremely small margin of error we have only seen 3 deaths.
Although there are no animals, Cirque du Soleil is the closest thing you'll ever experience that brings in the look and the feel of a real "circus." Catch the show while it's still here in Houston. You can even get a VIP pass and personally meet the performers.