Museum District and Rest after Semester End
The semester is coming to a close and it is safe to bet that everyone is currently stressed out of their minds. It could be from finals, it could be because of graduation and putting together plans to celebrate it, or just just scrambling to get transcripts and grades finalized. It will be over soon, and it will be in the interests of everyone who reads this to rest.
Not just physical rest either, though that should come first. There are different types of rest that need to be looked after. There are 7 types of rest: Physical, Mental, Spiritual, Emotional, Sensory, Social, and Creative rest. 
Physical rest is physical, i.e. Exercising and having an appropriate sleep schedule.
Mental rest is taking breaks when needed and giving your brain something else to think on so it would not end up in a rut. 
Spiritual rest is something that is more personalized to your person and how you deal with the metaphysical. This includes praying, making an altar, checking in with yourself to make sure that you are living and not just surviving.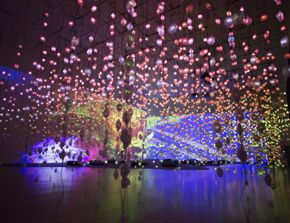 Emotional rest is taking time for yourself and telling people no when they ask if you are okay and working through the emotions that come with it. 
Sensory rest is just giving your senses a rest. Like no buzzing lights, computer humming, or looking at the screen.
Social rest is talking with people or taking a break from talking with people. Both are needed. Or to put it another way, taking time to just talk to people you know about anything and everything besides work talk.
Creative rest is self explanatory. Humans are creative creatures, we have to be in order to problem-solve things. But the creative juices need to be refilled every now and again. It could be anything that inspires you to help refill the tanks
The following list will include activities in the museum district to help you rest in these various areas. They could involve different areas of rest as well, depending on how you decide to engage with it. 
First off are the Art Museums! They can help with Creative, Social, and Sensory Rest.
The Museum of Fine Arts

Currently showcasing the

Pixel Forest and Worry Will Vanish

by Pipilotti Rist, a Swiss artist that has been active since the 1980s. This Exhibition will end September 4, 2023. 

Fine Lines- Works on Paper from the Masterson Collection. This is composed of various works from the archives with the main theme being that all the works displayed are on paper as opposed to canvas. Be it watercolour sketches, foundational sketches, prints, books, all will be displayed if they are on or made of paper. This will end October 1, 2023.

There are also new items on display in the permanent collections.

The Houston Center for Contemporary Craft

This is another center to showcase contemporary art like the HCMA and the Menil Collection. Every first Saturday of the month, they host a free craft making activity that is directed by some local artists and guilds. There are also various events held throughout the summer. They have an artist residency program as well, so be sure to check out 
Second part of the list would consist of various places to visit to just explore and walk around. These would cover Physical, Mental, Emotional, and Spiritual rest. 
The Houston Zoo

Sometimes it's needed to indulge your inner child a bit. It could be anything but the best bet is to go to the zoo and see the animals. It also means that you are walking and out in the sun, so just good all around. This would also provide the opportunity to learn new things just for the sake of fun as opposed to studying. There is new exhibit exploring the Galapagos Islands

The Japanese Garden

In case you are not able to pay for the Zoo and still want to walk around in the sun.

The Museum of Natural Science

See above with the Zoo, but with less chance of a heat stroke. Also the King Tut's Tomb Exhibition is open, along with an exhibition that talks about sharks and allows visitors to see live sharks up-close in a 7,000 gallon touch tank. 

The Rothko Chapel

It is a meditative place to pray and provide sanctuary. It is a calm place and should allow for contemplation with minimal interruptions. There is also a performance by the Houston Opera that will take place on May 18th. All tickets are already sold-out but they will allow walk-ins depending on how many show up.