Why We Celebrate Hispanic Heritage Month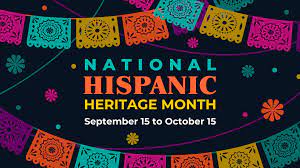 The United States observes Hispanic Heritage Month from September 15- October 15. During this time, the nation celebrates and honors the vital contribution of Hispanic Americans to American history.
As we approach the end of Hispanic Heritage month, it seems timely fitting to hear about its origins.
Initially, Hispanic Heritage Month was merely a weeklong observation coined as "Hispanic Heritage Week" during former President Lyndon B. Johnson's administration in 1968. In 1988, former President Ronald Reagan decided to expand the time span to a 30-day honor at the request of California Representative Esteban Torres. The date September 15 is the anniversary of independence for Latin American countries Costa Rica, El Salvador, Guatemala, Honduras and Nicaragua. September 16 serves as the Independence Day of Mexico while September 18 is for Chile. During the Reagan administration, elected officials decided to include Día de la Raza (Columbus Day) as a part of the honor. Since Día de la Raza falls on October 12, Hispanic Heritage Week was expanded to Hispanic Heritage month.
Across the country, there are several festivals, art shows, conferences, community gatherings that highlight and educate people on Hispanic culture and history. All these events are designed to recognize and show their public gratitude to the Hispanic community.
According to the current US census, the Hispanic community makes up about 18.9% of the entire US population. They are often dubbed as the "American Dream in action." Conversely, the community has received major backlash for stealing jobs and spreading crime throughout the nation. Due to this heavy criticism, the significant contributions that the Hispanic community has provided to American society is often overlooked or blatantly ignored.
In a broader context, Hispanic Heritage Month pays homage to America's epithet of being "a melting pot of the world" where all people from various ethnic, cultural, and racial backgrounds can be graciously welcomed to build a better life in America. In the words of President Biden, "During National Hispanic Heritage Month, we reaffirm that diversity is one of our country's greatest strengths.  We also acknowledge the Hispanic leaders who have stayed in the struggle for equal justice to ensure that everyone in this Nation can contribute their talents and have the opportunity to thrive."
Articles used:
https://www.census.gov/newsroom/stories/hispanic-heritage-month.html#:~:text=%E2%80%9CThe%20observation%20started%20in%201968,of%20Public%20Law%20100%2D402.
https://www.whitehouse.gov/briefing-room/presidential-actions/2022/09/14/a-proclamation-on-national-hispanic-heritage-month-2022/