Weezer "blessed the rains" with a new cover album
Many of you may have heard of a different version of Toto's "Africa" played on our Houston-area radio stations in the past eight months. If you were wondering who was the band behind it, it's none other than Weezer, the same band that brought you "Beverly Hills", "Say it Ain't So", and "Buddy Holly".
Weezer dropped the surprise release on midnight eastern time on January 24th, making the announcement on Twitter that the 10-track album can be played on all music streaming platforms such as Spotify. "It's us covering everyone else's hits."
Many of their tracks listed in the album included "Everybody Wants to Rule the World" from Tears for Fears, "Take on Me" from a-ha, and "Paranoid" from Black Sabbath.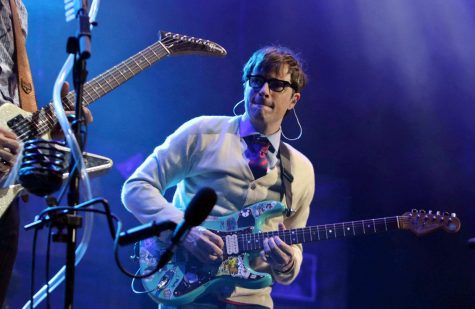 Many Weezer fans were taken aback that they played cover songs from Michael Jackson and TLC, which was seemingly unexpected. Their song, "Scrubs" became a hot topic since its release.
It even caught the attention of former TLC member Chilli.
"When I heard it, I loved it! They did a great job," she tells Rolling Stone in a recent interview, "I hope we can perform it together."
Chilli, whose real name is Rozanda Thomas, also said she co-signed with the band to cover "No Scrubs" and was amazed at the confidence the band put in to the song. "Clearly, they are not scrubs."
According to Weezer frontman Rivers Cuomo, he and the band picked out the songs that were "freakishly popular". But he was aware that when they're covering a song that was sung by a girl group (TLC), they had to keep the pronouns.
Their previous album Pacific Daydream, which features their single "Happy Hour" has been nominated for a Grammy this year for Best Rock Album, along with contenders Ghost, Fall Out Boy, and Alice in Chains.
Their self-titled cover album has been revealed as "The Teal Album", with the band members dressed up in 80's-style clothing. It also serves as a bridge in anticipation to their upcoming studio album "Black" which is due to release on March 1.
FULL TRACK LIST:
1. "Africa" (Toto)
2. "Everybody Wants to Rule the World" (Tears for Fears)
3. "Sweet Dreams (Are Made Of This)" (The Eurythmics)
4. "Take On Me" (a-ha)
5. "Happy Together" (The Turtles)
6. "Paranoid" (Black Sabbath)
7. "Mr. Blue Sky" (Electric Light Orchestra)
8. "No Scrubs" (TLC)
9. "Billie Jean" (Michael Jackson)
10. "Stand By Me" (Ben E. King)