Siblings looking forward to NCAAs — in different sports
Ryan and Simone Manuel are as close as two siblings can be, even though they attend college in different parts of the country. They chat or text almost every day, doing their best to keep up with what the other is doing.
Simone jokingly gets on her big brother to make his free throws.
Ryan provides words of encouragement to his little sister before a big swim meet.
In all likelihood, these Houston-area natives will have a lot to talk about over the next few weeks.
Simone, one of the top freshman swimmers in the country at Stanford, will be competing at the NCAA championships beginning March 19. Her brother is a senior guard at SMU, which is ranked No. 22 and probably will make the field for March Madness.
It's going to be tough keeping up with the Manuels, that's for sure.
"It should be a fun experience," Ryan said. "Hopefully I'll make my first NCAA tournament. Hopefully for my sister, it will be the first of many."
Ryan and the family's oldest child, Chris, both played college basketball. Simone was inspired to follow in her brothers' athletic footsteps, but she decided on a different path.
"I remember it like it was yesterday," said Ryan, looking back to age 5. "I had the water running and was sitting in the tub. Out of nowhere, my little sister comes around the corner and jumps in the tub with all her clothes on. I think that's when my parents knew she wanted to be a swimmer."
Her brothers both swam in a summer recreational league, and Simone started pestering her mother to join them by the time she was 4. Sharron Manuel insisted her daughter take swim lessons first, but by the second day she was paddling from one side of the pool to the other.
Simone played plenty of other sports, including basketball, but she never shared her brothers' love of hoops.
"I played basketball one year at this club program, and I hated it," she recalled. "I was the tall one on the team, so I had to play the post position. Well, I was always getting elbowed or hit in the face."
There was something else, too.
"I hate sweating. When you're running up and down the court, you're sweating so much," Simone said with a chuckle. "Besides, I really enjoyed telling my brothers what to do, but I didn't like them telling me what I was doing wrong on the court."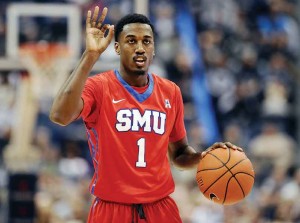 Simone emerged in the last couple of years as one of the top U.S. sprinters. She earned a gold medal at the 2013 world championships from the prelims of the 400-meter freestyle relay. She will compete in both the 50 and 100 free, and at least one relay, at this summer's worlds in Kazan, Russia. She will be a leading contender to make the Rio Olympics.
Her college coach, Greg Meehan, thinks the long-term potential is even more exciting. He believes Simone will be even faster by the time the 2020 Olympics roll around.
"You can just tell this kid is different," Meehan said. "She's got something special in her. She's swimming well because of what she does on a daily basis. She's incredibly consistent. To be consistent in her events, the sprint-oriented events, that's hard. It's hard to be consistent because of the intensity that's asked from them on a daily basis."
While Simone's college career is off to a flying start — she'll compete in the 50, 100 and 200 free at the NCAAs in Greensboro, North Carolina, along with several relays — her brother endured a few bumps along the way at SMU.
Larry Brown took over as coach when Matt Doherty was fired after Manuel's freshman season. Brown wanted the 6-foot-4 Ryan to take on more of a point guard role, which didn't exactly come naturally.
"When I got him, it was like taking a power forward and trying to make him a point guard," Brown said. "It was a tough transition. But every day, he gets better."
Sharron Manuel beams with pride at the way her son handled his up-and-down career.
"Every year, things changed more for him than he would have liked, but we encouraged him to stick with it," the mother said. "I used to tell him, 'It's not going to rain every day. There will be sunshine. Just keep working at it.'"
Things definitely brightened up as a senior. Moore has started 24 games for the Mustangs (23-6), who host Tulsa in their regular-season finale on Sunday. He is averaging 6.6 points, 3.4 rebounds and ranks second on the team in assists. More important, SMU has a shot to make the NCAA tournament for the first time since 1993.
"When you're trying to help build a program, to get to the level we hope to get to, you need quality kids, high-character kids. Ryan is at the top of the list," Brown said, before jokingly adding, "The only negative is Ryan's sister swimming at Stanford and not here."
As an African-American, Simone is an anomaly in a sport that remains predominantly white, despite the inroads made by Olympic swimmers such as Cullen Jones.
For her family, though, it didn't seem all that unusual. The pool was a popular place to be during those hot Texas summers, and Sharron Manuel arranged swimming lessons for all three of her children at a young age. Ryan, in fact, was pretty good at the sport, "but I didn't like those Speedo outfits," he said.
Simone would love to see more African-Americans heading to the pool.
"I always loved the water," she said. "I'm trying to let my swimming inspire other people."