Know before you go: how to survive Comicpalooza
So, you've heard actress Emilia Clarke from Game of Thrones is coming to this year's Comicpalooza, and you must be pretty excited! It is predicted to be one of the biggest must-see events, especially since VIP and the Mother of Dragons speed passes are selling out quick.
At the same time, it's your first time attending the largest comic convention in Texas (in ALL of Texas, to be exact), so it's a lot to take in.
This year will be as big as the past few years, with multiple headliners will take the show this weekend. Not only that, the convention will add even more features, such as a bigger esports area as well as events catered for children.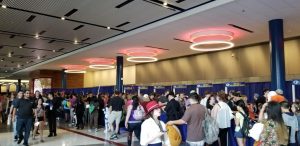 To recap a little history, Comicpalooza has been one of Houston's biggest events since 2008, when it was first starting up as a smaller event at the lobby of the Alamo Drafthouse in Katy, drawing 500 people without promotion. They grew from there, to a local mall, to eventually moving to the George R. Brown Convention Center, accommodating the skyrocketing number of attendees.
Today it remains as Texas' largest comic convention, where not only it has grown, but they have added many exhibits to celebrate creativity for all ages. In addition, it's also Texas' largest pop culture celebration.
With that being said, let's go over a few pointers.
It is better to buy your badge online than on the day of the show.
Some businesses such as Bedrock City Comics offer discount codes to purchase your badge. If you wait until the day of the show, you may end up paying more. Don't delay on buying your badge! Know what type of badge you're buying, too, as there are several. One is the General 3-day admission, which gives you access to the show. VIP badges are more expensive, and those not only give you priority access to celebrity panels, you also get a swag bag full of goodies. Speed Passes give your priority access to a celebrity panel 30 minutes prior, depending on the celebrity (i.e. this year's "Animaniacs" speedpass gives you priority access to only the Animaniacs voice actors' panel, but won't give you priority access to the Game of Thrones panel). Keep in mind that autographs and photos with guests must be purchased separately.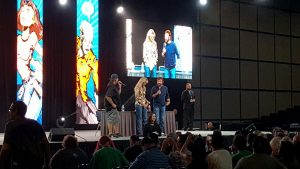 Give yourself time before arriving.
Allow yourself about 30 minutes for parking and such. Security will be high this year, so prepare yourself when you arrive. Treat it as if you are going through security at the airport. Also, if you are buying a badge onsite, allow yourself at least one hour, you may be waiting for a while. As mentioned, this year is predicted to shatter attendance records. Best parking spots: Discovery Green garage, Toyota Center (for price), Green Street garage, Bell Street lot. Otherwise, take the MetroRail if you will be parking a little farther away.
About autographs and photo-ops with celebrities.
Autograph and photo-op prices are set depending on the celebrity, not by Comicpalooza. If you want to get a picture or an autograph by a headlining celebrity, get ready to max out your credit card. Don't worry, you can get up to four people in a photo-op with a celebrity. If there's a guest you want to get a signature from, but can't pre-order an autograph ticket, the guest may sell their autographs and/or selfies at their booth.
You don't need to be knowledgeable about comics.
Comicpalooza has a little bit of everything for everyone. There's the comics side, but there's also events that even kids can partake in. If you're an aspiring author or a bookworm, there's many literature events as well as author meet and greets. This year, the esports community will grow with the addition of more gaming tournaments as well as the global streaming of the first annual ESPN's Collegiate Esports Championship.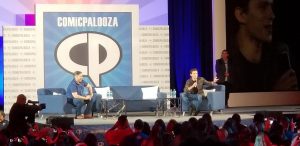 Looking for a rare item? The vendors may have it.
You'll encounter a lot of vendors that carry lots of rare items that may be worth some monies. The good thing, some of them are willing to negotiate the price.
Cosplay!
Cosplay is one of the biggest attractions at Comicpalooza. You don't have to be in costume to attend, but people in cosplay do it for the fun of it. You may be impressed by how people make their own costumes. Check out their cosplay contests on Saturday and on Sunday for kids (yes, kids can cosplay, too!).
Next year, consider volunteering for Comicpalooza.  
The volunteer leaders are some of the nicest people you will meet, and they'll become your best friends. By volunteering, you can earn free access to the convention, as well as gain valuable experience. Whether you have experience in photography, working in teams, or retail, or even assisting celebrities with refreshments and such, there's always something for you to help that fits within your skill set.
Hope you have a great time at Comicpalooza this year! You can also go online at comicpalooza.com for up-to-date information such as panel schedule, and other stuff!