Omega Sigma top 100
Houston Community College's Phi Theta Kappa Honor Society chapter ranks as one of the top chapters internationally.
HCC's Omega Sigma chapter placed in the top 100 chapters out of more than 1,250 chapters around the world. From Phi Theta Kappa's international convention in Nashville, Tennessee, April 6-8, HCC's chapter officers and advisors took home a Distinguished Chapter award, as well as Distinguished Honors in Action in Action Project and Distinguished Theme Award for Honors in Action.
The rankings and awards are determined by judging both annual chapter projects: the Honors in Action and the College Project.
The Honors in Action project is an academic research project paired with action and is centered around one of eight global perspective themes. HCC's chapter focused their research on how people's beliefs shape their food consumption habits. Their chosen theme was 'Myth and Reality'. For the 'action' part of their Honors in Action project, the chapter hosted an event with a nutritionist and a local chief and to raise awareness about food waste.
The College Project is a community service project PTK chapters complete every year to serve their home college. HCC's Omega Sigma developed a peer-to-peer mentoring program for at-risk students called 'Students 4 Students'. The project was able to receive $10 thousand in funding from the HCC administration, part of which will be used to fund stipends for student mentors.
Rebecca Delacruz is the chapter's public relations officer. Her favorite part of the convention was a powerful speech about leaders by world-class photographer Platon. "This was the best way to end my year as part of Omega Sigma," said Delacruz.
Josue Rodriguez, the president of HCC's Omega Sigma chapter, won an individual award at the PTK Catalyst. Out of over 20 competitive honors students, he placed second in the Extemporaneous Speech contest, having only 30 minutes to prepare a speech.
"[Phi Theta Kappa] is an honor society, but at HCC it's more like a club with people you know," said Rodriguez, "at international, it's hardcore. People from all over the world—literally—and they're all very motivated over-achievers. It's good to meet people and see their accomplishments and relate to them…"
NEW MEMBERS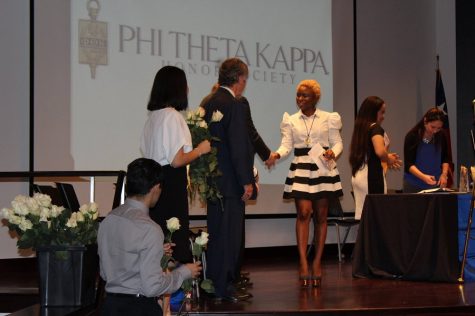 Phi Theta Kappa is an international honor society for two-year college students. The organization boasts $90 million in scholarships for its members. Students with at least a 3.5 GPA and 12 or more hours of college-level credit are invited to join every spring and fall.
New Kappians were welcomed into the honor society at the spring induction ceremony on Thursday, April 13 at the West Loop Campus Auditorium.
The Honorable Ed Emmett, a Harris County Judge, was the keynote speaker at the spring induction.
Judge Emmett spoke with students about the importance of making and keeping connections. "You're not in this alone. You can do everything right, but if you don't have that right connection, it's not going to work…you didn't get here by yourself, you're not going to get there by yourself."
HCC's chapter will soon elect a new officer team for the 2017-2018 academic year, they will be responsible for next year's Honors in Action and College Project. Elections are open to current PTK members and will be held on Friday, May 5 at 5 pm at the West Loop campus.
"If you're considering running for an officer position, I say go for it. It will be challenging and time-consuming but if you're willing to put your effort into Omega Sigma it will all be worth it," said Delacruz.
Rodriguez said that as chapter president, the greatest lesson he learned is how to empower and mentor his fellow officers and members.
For more on Phi Theta Kappa at HCC, visit Facebook.com/OmegaSigma