Today In Sports History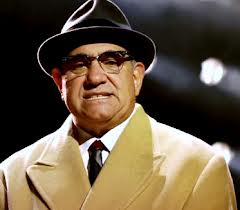 John Cañamar, Sports Editor
February 1, 2016
On February 1, 1968 Vincent Thomas Lombardi stepped down and retired as the head coach of the Green Bay Packers.
Lombardi is considered by many as the greatest coach in football history.
In his nine years as the Packers' coach he led them to three NFL Titles and the first two Super Bowl Titles.
Lombardi finished with the Packers with an 89-29-4 record never having a losing season.
Prior to Green Bay Lombardi was the New York Giants Offensive Coordinator for five years.
After retiring as Head Coach he was the General Manager for a year with the Packers before going to Washington and coaching for a year.
Lombardi passed away of Cancer on September 3, 1970 in Washington D.C.