NSLS Southeast Chapter looks forward to future success
The chapter has recently won a prestigious award for their recent success and their involvement in the community.
When it's Friday afternoon, it usually means "weekend, yay!".
However, the student members of the NSLS Southeast Chapter at HCC Eastside campus holds their meetings every Friday afternoon, and they aren't complaining. In fact, they love being part of a powerful society.
Adviser Tina Williams wouldn't have it any other way.
"Every semester, it gets better and better for our students," she said.
The National Society of Leadership and Success, or NSLS for short, is the largest nationwide honor society, selecting a few students to join every year based on their involvement in the community, as well as their leadership.
This year, the Southeast chapter of the NSLS received the Chapter of the Year grant for their accomplishments in their leadership skills within the community, as well as significantly increasing membership attendance and participation.
And just this month, the Chapter received one of the Society's prestigious awards: The President's Circle Award.
"Our chapter is on its way to complete all ten pillars, and are we are on track to complete four bonus pillars," said Fathy Elsayem, chapter president, "These pillars measure chapter success by the NSLS national office."
The members of NSLS Southeast are actively volunteering in their community. According to Elsayem, he and other members of the Executive Board are working on establishing an on-campus food pantry to assist food-insecure students. They expect to have it ready for students later this year.
The Executive Board members can attest that the Society has taken them on a new level. With benefits such as exclusive scholarships, and a rise in their GPA, and attending conferences, members say it's a valuable experience for them.
"For me, I think it's important to connect with the leaders of tomorrow, because people will be holding hands within the future or not holding hands with [people]," said Fillipa Ivo, Vice-President of NSLS Southeast, "It's important to build these bridges between myself and people."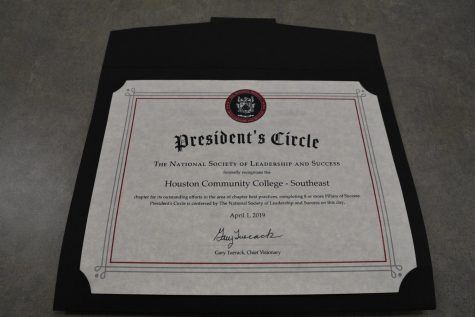 The NSLS Southeast Chapter was established seven years ago. As of today, the chapter has 139 members and growing. 65 of those members completed all their steps towards induction.
They collaborate with the Student Government Association (SGA), helping each other with volunteer assignments, board meetings, and making sure they finish off the semester with ease.
Students get an exclusive invitation from their advisor asking them to join, however, in order to complete the process of joining, they must complete a set of steps to become a full-fledged member: participate in orientation, a special Leadership Training Day, attend three speaker broadcasts, and complete three Success Network Team Reports.
"It's like a Christmas tree," said Williams, "you have all these presents on the bottom of the tree; and then you have the shining star on top of the tree, which resembles all your successes."
According to Williams, the chapter invited several local individuals to speak for the members, both current and incoming. Those include HCC Trustee Eva Loredo, HCC Southeast President Dr. Melissa Gonzalez, and Rep. Sylvia Garcia. HCC Chancellor Dr. Cesar Maldonado plans to speak with the members sometime later this year.
Those members who completed their introductory steps will be inducted during a ceremony. The next induction ceremony will be held at the Eastside campus on April 25, 2019.