Central Hosts Science Career Fair
Over 100 science majors and high school students attended HCC Central's "Biology and Physical Sciences Career Fair" on April 16.
In this event, there were many experts from different institutions that gave students a guide to higher education and career success in engineering, nursing, pharmacy and health sciences, cytogenetic technology and geology fields.
Susan Thompson, Program Director for Engineering at HCC Northwest said, "Engineering impacts in every bit of our lives." She said that engineers help develop future technology for medication, construction and cars. "It makes our lives better," said Thompson.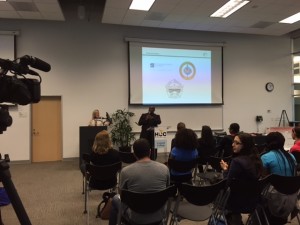 During the event, Host Karl Mayes encouraged students to pursue and complete the degrees they start, "The problem that I have with people is… they've never finished what they started." He added, "Greatness does not come on sale… it comes from the aspect of who you are to realize that no matter what, everything that you get you are going to have to work hard for it… you are going to have some gusts some bruises."
Before the second session started, the team was giving away free flash drives, bags and calendars to lucky students.
Ming Zhao, Senior Health Professions Educator from MD Anderson Cancer Center explained that the institution is a part of the University of Texas's system. The School of Health Professions (SHP) has five laboratory programs: Clinical Lab Science – detects the lab tests such as blood tests, Cytogenetic Technology – study chromosomes, such as curing Leukemia and other possible genetic disease, including DNA, Cytotechnology – study cellular changes and diagnose disease, Histotechnology – prepare tissue specimens to detect and diagnose disease, Molecular Genetic Technology – study DNA for diagnosis, prognosis treatment and prevention. There are also four Radiologic Science Program: Diagnostic Imaging – x-ray, Diagnostic Medical Sonography – ultrasound, Medical Dosimetry – radiation treatment and pills plans, Radiation Therapy – radiation to treat cancer. To be able to study in this field, he suggested getting the Associated in Science because it required some skills and knowledge to study.
Jennifer Burton from Houston Geological Society reminded students that Science, technology, engineering and mathematics – collectively known as STEM jobs; are in high demand in the United States.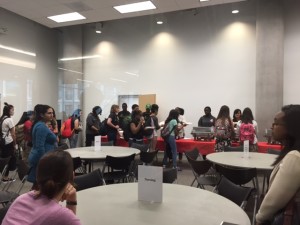 Burton said, "The cool thing about it is Geoscience is – especially here in Houston area, which is one of the greatest concentrations of Geosciences in engineering in the country – it's that you could get paid very well to do it, especially if you're going into the oil and gas."
For example, according to the U.S. Bureau of Labor Statistics, the median salary for Petroleum Engineers in 2012 was $130,280 per year or $62.64 per hour.
For being a high-paying, high-demand occupation, not a lot people are actually into it. Burton suggested, "Just explore yourself… if you're not interested in it, it's probably not worth the effort. But to be interested in something, you have to be exposed to it…Find the thing that you like." She suggested having an Associate of Science to study in the field.
HCC student alumni shared their stories and gave the guidance to current students during lunch. These former students are now attending schools like the University of Texas, University of Houston-Downtown and Texas Women's University. Also, one was accepted into MD Anderson cytogenetic technology program.