Jimmieka Mills, Editor-in-Chief

February 12, 2017
By all accounts, James Aaron had a happy childhood. Growing up in the segregated south for most blacks was a constant thought with the visible reminders of 'Whites Only' signs on all things that seemed humane. Though for Aaron growing up in Pleasantville, an all-black middle-class neighborhood...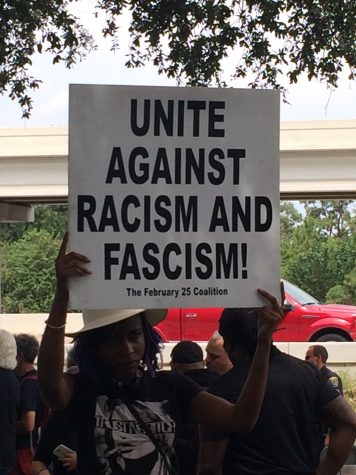 Michael Garcia, Egalitarian Staff Writer

October 4, 2016
A swarm of protesters from various organizations and police officers surrounded The Anti-Defamation League located on 4635 Southwest Fwy on Saturday morning around 11 AM. An all white organization called White Lives Matter, who went national after they protested in front of the NAACP office back in...
Michael Garcia, Writer

September 30, 2015
The panel discussed the Black Lives Matters movement, as well as key issues. The BLM movement fights for social structure to prevent any social injustices towards the black community. It's not just a movement for specific issues. The movement does not fight for just black male lives, but also black women's lives, black trans lives and black queer lives.