White Lives Matter protest Anti-Defamation League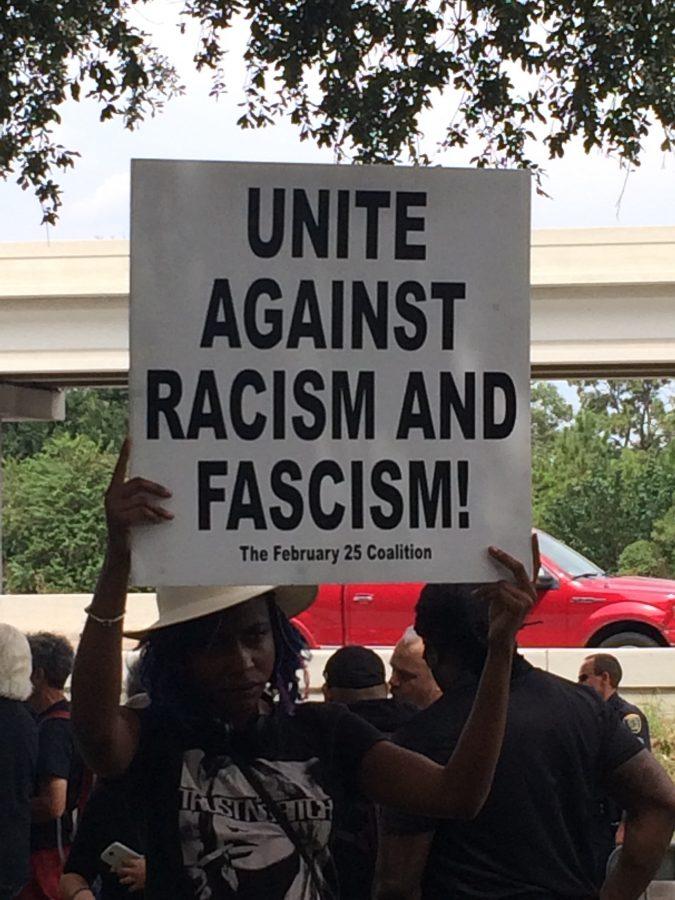 Michael Garcia, Egalitarian Staff Writer
October 4, 2016
A swarm of protesters from various organizations and police officers surrounded The Anti-Defamation League located on 4635 Southwest Fwy on Saturday morning around 11 AM.
An all white organization called White Lives Matter, who went national after they protested in front of the NAACP office back in August, were protesting Saturday morning in front of the Anti-Defamation League after recently being labeled as a hate group by the League.
The Black Lives Matter movement attended the event to counter protest White Lives Matter. Other organizations attended to support BLM such as the Austin Socialist Movement and the Latinos Inmigrantes Triunfadores.
"It's important to take seriously combating and confronting white supremacists whenever they try to show their face. We feel that they should not have a platform to speak" Brad, a member of the Austin Socialist movement stated.
"All of these people here? It's shocking because you never see them until hideous people like you come out of the cracks of the earth like roaches and just destroy everything. You just ruin the world." One BLM supporter shouted.
The two opposing sides exchanged statements that supported that their life matters. For each "Black Lives Matter" shouted was combated with a "White Lives Matter".
On the WLM side, were signs that read, "Stop shooting our police" followed by "Pepe" a popular meme on the Internet that was recently declared a hate symbol by The Anti-Defamation League. A banner that also told the story of Mary Phagan was held.
Phagan was a 13-year-old girl who was murdered in 1913, Leo Frank was convicted for the crime. His case would be one of the influences for the creation of The Anti-Defamation League.
WLM handed pamphlets out that questioned the ADL's integrity for supporting Leo Frank's case. Frank had stirred up much debate after his death for being wrongly accused.
"Black-on-white crime is way larger in this country than white-on-black crime," one member of WLM stated.
"They'll make anything to try and to deter attention from black lives. They don't want black lives to have any superiority." Member Kaelyn Bibb with BLM stated. "And it's not just black lives matter but also brown lives matter. Because when people aren't marching for their people, we are."
WLM is not a new organization, however. The movement started roughly 3 years ago and just recently received national attention after their last rally in front of the NAACP.
"Everybody thinks that because we are here today to talk about white lives matter that we are racist or haters. In reality I am a racist, not because I hate anybody else. Because I love my own." Member Scott Lacy of the WLM stated. "Everybody's a racist. If you are proud of who you are, where you come from you are a racist."
On the BLM side, signs read "Unite against racism and fascism!" followed by various people of different ethnic backgrounds taking turns combating against WLM on the microphone.
"Hey, hey, ho, ho! Nazi scum has got to go!" was chanted on the BLM side.
As the protest continued, both sides attempted to provoke the other, WLM member Ken Reed called a member of BLM "Angry black man", an American flag was burned by BLM, and a WLM member brought a shotgun.
"The only way he will put the finger on the trigger is if you come over here." Member Ken Reed stated.
WLM protesters even shouted, "you're racist" towards BLM protesters. " We are not racist. We are oppressed!" one BLM supporter stated.
BLM also commented on the police surrounding the area. "They are just here doing their job! They don't care!" one BLM supporter stated. A few BLM supporters wore vests that read "F the police" on the back.
BLM have consistently been vocal about their relationship with police. "Police are killing us!" member Greg of BLM shouted.
"As you can see we have the two groups separated with some barricades that we put out here." Executive Assistant Chief of the Houston Police Department, George Buenik stated. "It did get a little heated out here. But since the protesters were separated by the barricades there was no violence out here. It is a little bit loud, but we are here to keep the peace and let everybody exercise their first amendment rights."
A supporter of the BLM movement discussing years of his people being oppressed was interrupted by WLM member Reed "We are not here for a history lesson."