Tonya Hall Meets World: A Student Mother-Stylist-Agent Achieving Higher Education
The college classroom is a vast melting pot of students. At HCC Central, I have encountered many fresh high school graduates eager to immerse themselves in the college culture, expressing themselves unapologetically in fashion and charisma. My scope of inclusiveness at Central campus had seemed dampened by the social construct that older students would seem out of place–as if their academic aspirations are obsolete. As if we are inherently competing and racing the clock.
Tonya Hall, 46, anticipates her first college graduation this spring from HCC Central. She will be graduating with an Associate degree in Communications with a specialization in Advertising and Public Relations.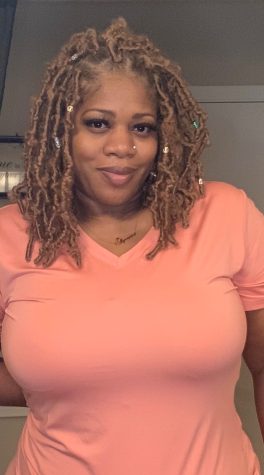 Tonya expresses and nurtures her character by immersing herself into multiple environments she loves and feels her values, habits, and capacities evolving. When Tonya is not watching a good film or spending time with her grandson, she dedicates her time to cosmetology and customer service outside of the classroom. As a hair stylist and customer service agent, she has found delight in the ability to practice her communication skillsets in both professions seamlessly, which encouraged her strive to learn communications on both micro and societal levels.  
"At first it was getting a better understanding of myself then it was getting a better understanding of other people," Tonya said. "Communication has a bunch of different avenues. My hair job gives me insight into what customer service is. I deal with many different cultures and everything, so when I get to the phone it's nothing." 
Tonya's academic journey has pushed the boundaries that define a "normal" college career. She started at Blinn College in 1995 but left shortly after due to family obligations. Continuing her college career has been a redefining experience after completing trade school and raising a family.  
"It wasn't easy for me. I felt a little bit overwhelmed, so I went down the road and went to trade school, which there's absolutely nothing wrong with," she said. "My experience was a whole turnaround compared to twenty years ago. It's just a community college to other people, but it helped me in a lot of ways." 
The Covid-19 pandemic has affected the education system and learning style of students to many extremes. For Tonya, the pandemic's effects had a silver lining to her academic, professional, and personal aspirations.  
"First, I was going to campus for all my classes. I would come from the north-side of Houston to Central campus, and then the pandemic made them virtual. It was helpful. It made it easier for me to do other things. I feel a lot more peaceful these days. I'm happy," Tonya smiled.  
"It also helped me with my field because I can communicate with customers and clients with more relatable issues," she added. "Half of moms felt like they were in carnage. They felt stuck. I was relieved because a lot of people got to see how much you really have on your plate."  
The pandemic allowed many adults and young adults to reflect on various aspects of their social capabilities. After spending multiple months in isolation and communicating on video-telephony programs like Zoom, many individuals have noticed a curtailment in their social skills as the world transitioned from the pandemic. 
 "Communication is kind of a lost art form," Tonya said. "The pandemic let me re-evaluate. A lot of times I went back to realizing not everyone is on the same page." 
She would ask herself "Why do I feel like I'm not doing this right?" which prompted a pleasant sense of belonging to me. Tonya and I had more common ground than I thought. I would question and doubt my social abilities as I navigated through post-quarantine restrictions too. Tonya's point of view was reassuring because although we are on different journeys, the setbacks are not as different as we may think.
Tonya has demonstrated perseverance and ambition to accomplish a higher education despite those setbacks. She quickly realized that the power struggle she endured was herself versus herself.  
"I wish I just would've believed in myself a little bit more. The energy that I put in others I wish I would've put into myself," Tonya said. "But I learned that I can do it. It can be done." 
"I want to help others realize what they can achieve. With people seeing an aged woman still trying, someone who didn't give up on themselves, I hope they can see that I'm a girl meets world. Always." 
Tonya had made a compelling point about fearlessly pursuing a higher education. Education and knowledge are ours to keep, including our degrees. Like she said, those are things no one can take away from you.
The only idea holding us back from our success is ourselves. Our own self-doubts. Our own self-pity. It all starts and ends within us. We are each capable of achieving our dreams no matter how long it may take or how challenging it may seem. There is no right or wrong method. Priorities or setbacks may deviate students from their path, but age should not.
Tonya Hall has come an incredibly long way. Her exquisitely volatile career path has inspired me. It has also cultivated an impactful approach to the ideologies of higher education and the pursuit. The path is never linear. Each person's clock ticks at a different beat; but in the end, we are all working in the same trajectory to cross the same finish line.  
"Use community college as a learning block to see how you're able to make this journey. Use the tools you gain and learn how to maneuver at other universities or wherever it takes you," Tonya said.
Leave a Comment