Fashion Is a Puzzle
Growth in the fashion industry through the lens of a Fashion Design student.
I had just pressed the ground level button when a man in all black attire, carrying an ivory canvas tote rushed to the elevator, sticking his arm between the closing doors. Of course, I immediately pressed the open-door button when I saw him coming. 
"Thanks," he smiled, "Are you done for the day?" 
"Yeah! I just finished a ton of work in the library," I replied. 
"Cool cool. My name's Jaffar. It's nice to meet you." 
The way I met Jaffar Ogunkoya, a 24-year-old fashion design student at HCC Central, was serendipitous to say the least. He has not only shared his Nigerian background with me, but also his insightful journey in navigating through the intricacies of the fashion industry. I thought I kept up with high fashion considerably well, but fashion design students are on a different grind when it comes down to "textiles," or "composure" as Jaffar describes it.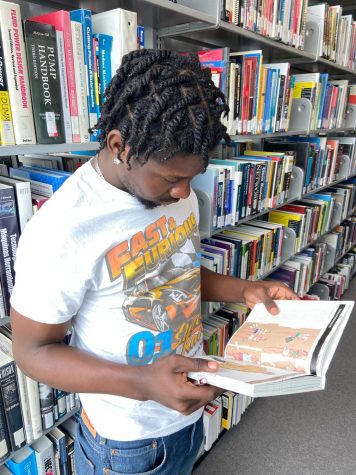 I have pondered on how the fashion industry has been portrayed and perceived by the people, especially in the scope of pop culture in mass media. How do fashion designers tackle the ever-changing field of "trends"? How does a person who pours their heart and soul into their clothing persevere in such a competitive, sporadic industry? 
I had the pleasure of chatting with Jaffar one evening while he waited for a seminar by self-taught designer Cesar Galindo at the Fannin Fashion Building. I took it upon myself to ask Jaffar about this outlook on the fashion industry and how its elements shape his identity and future. 
"As a kid I didn't have many clothes. I didn't have confidence because I felt like everyone dressed better than me, and I didn't have the money to get clothes," Jaffar said. "I studied fashion, and I realized that it's not just one way. It's about your ideas and creativity. It's like a puzzle. Fashion is a puzzle. Not only do clothes complement fashion, but so does your confidence and the way you act in your clothes."
 I could not have agreed more. Fashion is a multi-faceted concept. Fine arts can be as equally complex as physics when you consider how it's applied and its various forms in doing so. Naturally, artists dive into this idea headfirst, pooling designs and transforming this commodity. 
Jaffar's sense of style undoubtedly inspires mine. I am confident enough to say we have similar tastes. There is always a staple to his outfit whether it be his silver herringbone chain, Straye sneakers, rings, or bandana. If there is one thing we agree on, it is that an outfit is all about the accessories. 
"You need jewelry to compliment your clothes like chains and earrings," he said nearly speechless when I asked what a must-have in everybody's closet is. "It complements anything." 
Other than denim and corduroy being essential, he emphasized how he wished students would put more effort into dressing. 
"You're going to school putting on Crocs?" he chuckled. "There are no rules to fashion yeah but try to go out of your comfort zone and try new things." 
"I have two distinctive styles," Jaffar said. "The one I give myself is alternative fashion. In Nigeria, we call it 'alté vibes.' It is a vibe that is different from the normal vibe. It is a freedom of expression. The style on my body shows the world who I am." 
"My other style brings confidence to other people because it is different. It is a gap between luxury fashion and high fashion because I want people to feel rich, confident, and comfortable. Most fashion brands only care about the look and not the comfort." 
At this point I thought, how do I embody an "alté vibe"? What is essential to this form of expression? Specifically, who or what inspires it? 
"I don't look up to anyone because they are competitors," he explained. "At the end of the day, my fashion taste is all about how I feel. If you own a craft, or have a passion for something, you shouldn't feel low about it. It is your confidence that makes other people want to wear your craft." 
The fashion industry has taken progressive measures in sustainability. Companies are intentionally striving to debunk the fast fashion concept as Gen Z shifts their shopping habits to secondhand items. According to NPR, Gen Z has embraced secondhand fashion faster than any other age group and accounts for over 40% of global consumers. In fact, this has reconfigured thrifting into a $28 billion industry that is expected to eclipse fast fashion by 2029.  
I personally appreciate this juxtaposition of progressive retroactivity. I love thrifting myself. I take considerable measures to not only reduce pollution, but also to find hidden gems that refine and inspire my taste, broaden my creativity to compose an outfit, and uplift my confidence. 
"When I look at fashion designers, I don't look at Marc Jacobs or H&M," Jaffar said. "Those are ready to wear brands. Fashion design is an art, and I cannot criticize anybody's work because it has a meaning behind it. But fashion designers don't waste clothes as much as they used to. They are looking into getting better fabrics to reduce littering. The only thing I see is progress." 
Our conversations draw back and forth between fashion and other things, but we usually end our conversation on the topic of color and pattern schemes, his fashion merchandising class, or his outfit of the day. Though, every time we interact, I leave feeling inspired and motivated to create my own crafts, pioneering my own definition and genre in the jungle of fashion.  
Leave a Comment