Black History Month Honors: Sister Rosetta Tharpe
The [God]Mother of Rock 'n' Roll!
When you think of the early development of the music you love, who comes to your mind? The answer to this question may not serve as an urgent necessity for information, but it is a great start to the beginning of your education on the development of black culture and how it helped shape music forever. Too many of us are not enlightened on how significantly important it is to pay homage to where it is due when it comes to the history of music, and who was responsible for influencing the artists and bands that inspire us today.
It started with a young black girl from Cotton Plant, Arkansas named Rosetta Atkins. She was raised with a traditional, southern, and religious upbringing and became a hugely important figure for both gospel and secular music worlds by the time she was 23-years-old. With an electric guitar made of steel, she roared for attention in ways no one, black or white, had ever seen nor heard. According to Gayle Wald, Sister's biographer, it all began with her mother, Katie Bell, who was a God-fearing traditional Christian that passionately expressed her love for God by playing music for people outdoors to try to get them to convert to Christianity.
By 1921, 6-year-old Rosetta and her mother left Cotton Plant to move to Chicago. Here, she was exposed to jazz (derived from New Orleans) and the blues (Mississippi Delta). It was said by her close friends that this was when she and her mother joined Roberts Temple Church and Rosetta learned the styles of urban religious singing.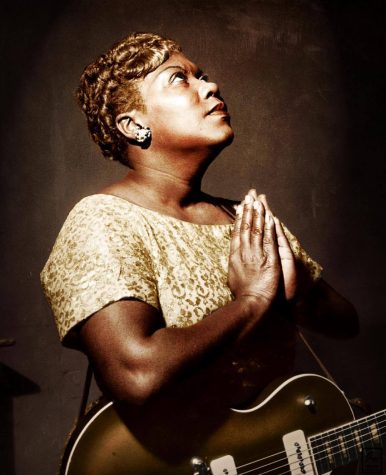 By the time Rosetta was 10-years-old, she was noticeably a multi-talented performer which led to her mother taking her to perform at churches, revivals, and tabernacles throughout her teenage years. Though Rosetta attracted thousands of people with her unique style, she also experienced a lot of disappointment from people that only wanted to utilize her talents to benefit their own financial gain and draw attention to their establishments, like her first husband, Reverend Tommy Tharpe.
After divorcing Tommy, again her and her mother pack up and move. When she got to New York, she was offered to sing at a nightclub called the Cotton Club. An upscale club with predominantly white audiences.  However, Rosetta was now under the wing of white band leader, Lucky Millinder, who had her under a contract that prohibited her gospel songs from being the forefront of her career. She was gospel's first superstar–coming from singing spiritual hymns expressing suffering and wanting to survive to singing controversial melodies like "Tall Skinny Papa" with the Lucky Millinder big band. Young swing fans immediately gravitated to Rosetta.
According to the Rock and Roll Hall of Fame, sometime in October of 1938, Rosetta was signed with Decca Records when she reinterpreted spiritual song, "Rock Me" for a secular audience. This was her first hit single and the first ever gospel song recorded with Decca. Loyal church followers couldn't wrap their heads around their gospel icon singing songs about pleasing her man like the 1940s number, "Four or Five Times." The mix of gospel and secular caused a stir of confusion and disappointment for her church-going fans, but it did not last long after she found a way to get back to her roots all while new young fans followed suit.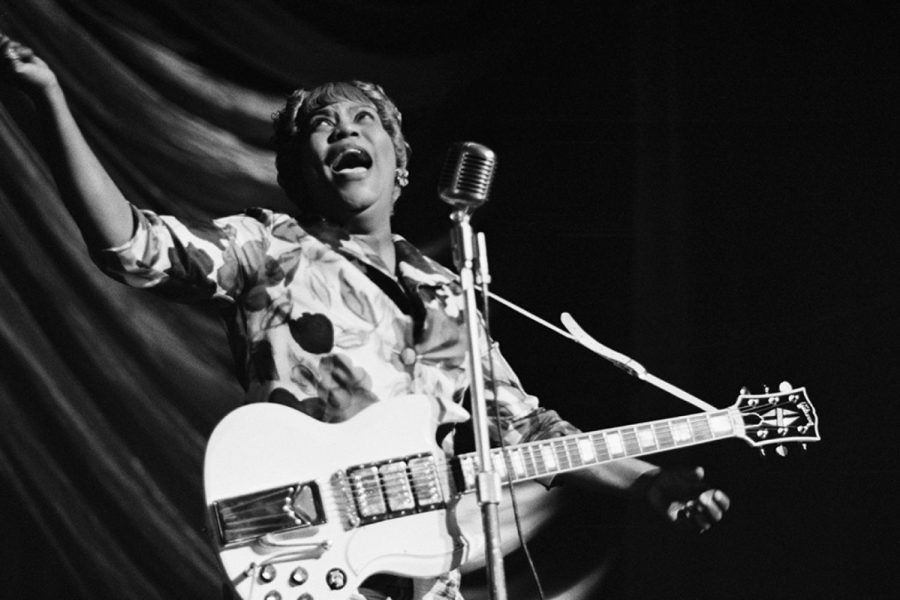 By the age of 25-years-old, Rosetta was rated of the finest musicians of her day–even while in a tough male dominated industry. She wrote and recorded "Strange Things Happening Everyday" that went on to be the first gospel song to get to Billboard's Harlem Hit Parade.  Sister Tharpe truly exuded the attitude of rock and roll by rebelling against the social norms of her time–the first to break down the barriers between the religious and secular audiences.
During World War II, Rosetta's fascinating guitar style of playing began catching the attention of young white boys in the 1960s. "There was a hip thing happening in Memphis…it was cool to go to [black] churches and watch the spiritual singers on Sunday nights," said George Klein, a longtime friend of Elvis Presley. Mississippi Delta–where young white musicians discovered the exciting rhythms, styles, and energy of African American gospel that Rosetta introduced to the world those 20 years prior.
George continues, "gospel brought feeling to popular music…the guts, the feeling, the real soul into it." Legendary artists that were influenced and covered Rosetta's songs like Elvis, Johnny Cash, Jerry Lee Lewis, Bruce Springsteen, Led Zeppelin, Buddy Holly and more all adapted to it which essentially turned into the evolution of rock and roll. Sister Rosetta Tharpe was responsible for their ideas on how to perform, sing, and play guitar. She was inducted into the Rock and Roll Hall of Fame on April 14, 2018. Recognition that was long overdue for the first guitar heroine of rock and roll history.