Education Matters – The #Realcollege Grassroots Movement
The #realcollege movement comes to HCC

The auditorium of the West Houston's Institute welcomed in teachers, faculty, students, and educators on Saturday, Sept. 29. As Houston Community College opened its doors to the Realcollege organizers, registration booths handed out the usual conference items like bags, lanyards, handouts, and books. Consideration items really stood out like gender pronoun buttons, stainless steel straws, and T-shirts with the message: students are human first. The little things made the conference memorable. Opening the event was speaker, Caesar Maldonado, chancellor of Houston Community College and Sara Goldrick-Rab, the founder of the Realcollege movement. The orange-themed backdrop behind the podium reinforced the message behind all speakers: to redefine the fundamentals of college.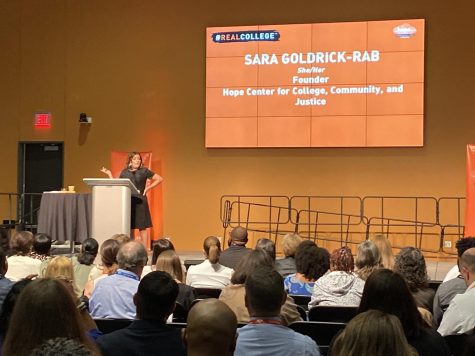 "I was born just across that river of El Paso", said Jacob Fraire, President of Texas Association of Community College who reminded everyone of what hate can do to an entire city. The mass shooting of El Paso that killed 22 people was just one of the difficult issues discussed in the conference. "These issues have been marginalized for a long time, said Sara who began this organization with a handful of researchers in Philadelphia. "It's because they spoke up, it's because they said 'we are hungry', is because they said they were not okay that the rest of said there is something to do here." The morning progressed and dismissed attendees into intermission. The cafeteria area flooded with educators, volunteers, councilors, non-profit, and for-profit organizers all coming together and sharing ideas and stories. Breakfast, lunch, and dinner were served by I Heart Food, a catering business by Jimmieka Mills who herself struggled with her own food insecurities during her time with Houston Community College. Memorable moments like these brought the community together. Breathing exercises, music, dancing, and of course, booze was much needed in this 2-day event going all day. With all the ongoing joys of being together to solve problems, a looming over everyone could be felt between all attendees. The needs of students were going under the radar, undiagnosed. Ruben Canedo from UC Berkeley in San Fransisco reminded attendees to call people by their proper pronouns as he moderated the morning session. Professional researchers like Darrick Hamilton of Ohio State explored wealth disparities, racial inequity, and challenges of students of color. As the Executive Director of the Kirwan Institute for the study of race and ethnicity, Darrick argues that higher education is not made for black students and he gave examples of racist incidents, alienation, and hostility in higher education. "Wealth disparity of the racial wealth gap, is dramatic.. the typical black household has about 17,600 in net-worth, with is more than 150000 less than 171,000 median wealth of the white family," he said. Sara begged educators "to put her out of this job" implying educators to carry the weight of struggling students. Students do not address their issues enough. Students are facing food insecurities, home insecurities, mental health crises, threats of mass shootings, suicide, impostor syndrome, and challenges to basic rights to students.

Many non-profit organizers like Louis Tse from UCLA started an organization Students4Student, opened a food pantry and shelter run entirely by students. Any students could apply for beds that are inside of a church and students get access to counseling and shelter. Ricky Walter, a therapist in professional counseling and domestic violence treatment, suffered from ADHD and dyslexia himself. His practice is based in Corsicana, Tx. If a student is suicidal or has mental health issues, he'll do a diagnosis, bring them in, and make an assessment. People like Louis and Ricky are just a few among the several young, old, men, women, gay, straight, non-profit, for-profit organizers, from all over the nation working together to bring accessible help to students. Moving into the afternoon sessions, the conference was well-coordinated, dispersing educators into dedicated sessions, each with a panel discussion to discuss an issue. The discussions ranged from Financial aid, Public policy, the new economics of college, and the Growing of the movement that the RealCollege organizers implement. Discourse engaged panelists and curious educators to inform one another on how to deal with food insecurities to mental health issues. Jenny Walden, Sr. Program Manager of a Non-profit organization from Seattle focuses on emergency funds for low-income students to get help after an emergency. Christine Wolff-Eisenberg who works with libraries and surveys academic organizations challenged professors and coordinators to take upon the role in deciphering whether or not students are facing food or home insecurities. The ambitious new college experience asks the question of whether it should be the job of educators to further investigate whether a student has food or housing insecurities. Christine works so that students should be able to talk to anyone on campus, from librarians to professors for help. In her research, she found out that students in crisis are going to libraries and asking for help. Staff are not prepared to help students who are in life or death situations. This is becoming a common crisis as Caesar Maldonado observed that teachers and staff are not equipped to handle these demands.
There's an app for that
"HCC needs to make decisions about the best approaches for students to be able to reach out" Said Sara who pointed out that colleges "have websites so students can find information electronically they don't have to come and say something to a teacher…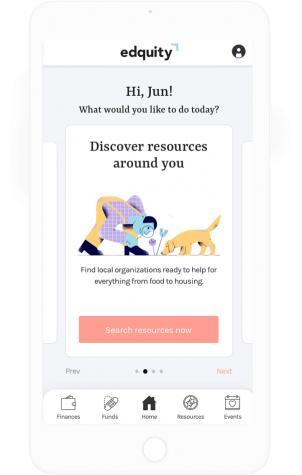 having both information available in a website or an app… help ensure that faculty are [also] educated to these issues so that they know what they're seeing." Students keep issues to themselves because there's a lot of shame that goes through them. Apps like Edquity are changing the way students are asking for help without going to physically talk to someone but it is the responsibility of the educators, faculty, and staff to dig a little deeper.
Full-time and part-time working students
The issue concerning students who work full or part-time was addressed at the new economics of college. Many students who are graduating High School are questioning whether a 2 or 4-year degree is worth it at all. 
"If we do not address the issue of part-time students, we will fail," said Mark Milliron who works with Higher education and consults colleges. He mentioned that colleges are operating in an agrarian system while the real world operates in an industrial system. Work and school schedules are incompatible with each other and are a major obstacle for students who want to attend and finish their schooling. Students are not getting the help they need to attend college and remain in college. Frederick Shegog, also in the panel, shared his story of waiting tables and having to compromise college on top or running errands and dealing with life. "A car breakdown and emergency will set you back." The discussion came up of employers removing degree credentials completely from their requirements,

The attendees appeared divided on that issue. Should employers drop their requirements? Mark argued, "that would be a tragedy." A 2 or 4-year degree is the pathway for better opportunities. More women and people of color are entering the workforce at increasing rate and colleges are not adapting to the change. People of privilege have greater freedom to maneuver through the system, leaving those who are not behind. Work and school schedules are incongruent for students who need to work.
Why did this archaic attitude of college persist? The panelists agreed that it is the old view of disciplining perpetuated this overlooking. This old form of disciplining students has to go because it assumes students can rise above their means and prove to themselves that the world owes them nothing. While it's a good message of overcoming obstacles there's is something sinister that persisted too much. Too many opportunities to help struggling students have been overlooked because a student has poor grades, attendant issues, or bad behavior. It is the responsibility of the student to fix these issues and if he or she doesn't, it is the fault of the student. The real world is less forgiving than that