James passes Jordan on NBA scoring list
Hang on for a minute...we're trying to find some more stories you might like.
The accolades continue to pile up for Lebron James. The King has moved passed Michael Jordan into the fourth place on the NBA's All-Time Scoring list. James scored his 32,293rd point on a lay-up, in the second quarter against the Denver Nuggets. Relishing the moment, Lebron put his jersey up to his face, walked off to the sideline, and became understandably emotional.
The kid from OHIO, who grew up with a single mother, outscored his childhood hero Michael Jordan. So, who is the greatest of all-time? Honestly, only time will tell. Lebron is still playing in the league so we don't quite know the other records he might break. What we do know is that over the last 50 years a little over 3,000 players have entered the league and out of that number King James has become the Fourth all-time scorer.
    The number one spot goes to Kareem Abdul-Jabbar with a whopping 38,387 points scored over twenty seasons in the NBA. James, being in his 15th season, would have to score 15 points a game for five years straight in order to take the number one spot. That equals out to about 1,230 points per season. Currently, James averages about 2,214 points per season.
Since relocating to the L.A Lakers James has only scored 1,303 points and will not make the playoffs this year as time has run out. If James numbers continue to spiral his quest for the number one spot will become more difficult.
Karl 'the Mail Man' Malone sits at the number two spot on the list with 36,928 points scored in his career.
At the number three spot sits 'The Black Mamba', Kobe Bryant, who has 33,643 points in an outstanding career with the LA Lakers. James heads in at number four with Jordan moving down to the fifth spot.
Michael Jordan played 15 seasons in the NBA, 13 with the Chicago Bulls and two with Washington Wizards. Jordan has six championship rings. Although King James has three championships under his belt, winning a couple of more would add to his debate as the greatest of all time
It's too early to determine LeBron's place in history simply for the fact that he's currently still playing in the NBA. Nevertheless, the King has had an illustrious career thus far. Winning two Olympic gold medals, becoming the seasons MVP three times, and appearing in the All-Star game eighteen times; fifteen being consecutive.
Taking the number one spot from Kareem could happen within the next five to six years. But the number three spot, which is held by Kobe Bryant, is very much in James reach if he stays healthy. Imagine King James overtaking Bryant for the number three spot all while wearing a Lakers uniform. Kobe Bryant as tremendous support for Lebron James, but I'm pretty sure Bryant wants to hold on to that number three spot as long as he can. Something that Air Jordan wasn't able to do.                     

About the Writer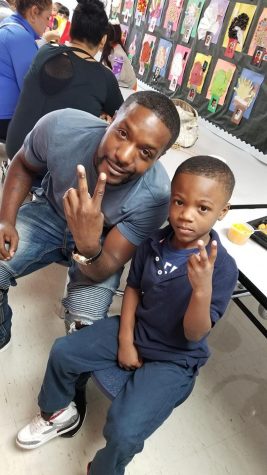 Frederick Barnes, Staff Writer
Frederick became a Staff Writer for The Egalitarian in March 2019. With a background in History and a primary focus in English, he hopes to fulfill his...