Los Tigres del Norte set new RodeoHouston attendance record
"Go Tejano Day" was held Sunday, March 10 at RodeoHouston by the group Los Tigres del Norte.
Los Tigres del Norte are a renowned norteño band made up of five Mexican-American brothers from California. The band of brothers have been performing together since 1970. Their breakout single, "Contrabando y Traicion" remains one of the band's most popular songs.
With their success the crowd they dragged in March 10 was incredible for their career. The performance held featured a record-breaking high beating out Cardi B. She held 75,580 fans while Los Tigres del Norte held 75,586 fans.
Their last performance in Houston was on the rodeo stage in 2002 at the Astrodome. With the all-time Rodeo Houston attendance record, the group made a big comeback and performed a great show to the returning fans.
Before the performance, Los Tigres performed to a large crowd at the Cowboys Dance Hall the day before heading to Houston.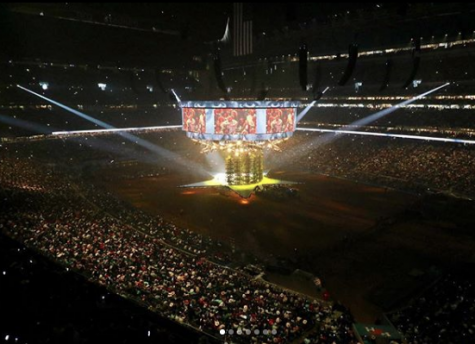 Go Tejano Day is known as the rodeo's most popular days. The day is the most crowded and consist of popular events during RodeoHouston.
The annual Tex-Mex tradition at the Rodeo has festivities that include a colorful exhibition of traditional Mexican folk dance, music and horseback riding. The day consist of many events that express Mexican culture and includes popular performers. The performers that have taken the stage have set several attendance records and have ranked multiple times among the top 25 paid rodeo/concert attendance records. Go Tejano Day 2019 held the No. 2 spot until Cardi B's concert, which bumped it down to No. 3 under the March 2018 Garth Brooks performance. Prior to the performances, six records were held by "Go Tejano Day" performers. The famed groups that have taken the stage were Mexican norteno group Banda El Recodo and Tejano group Siggno.