Homelessness panel makes history at HCC Central
Homelessness, it can happen to anyone, you see it strolling through downtown, you see it in public transportation, it could even happen to you.
Justice Butler and Houston Community College made history by being the only Houston college institution to make an event such as this addressing student homelessness. Butler was a homeless student who did the unthinkable. Butler went from sleeping in parks to getting ready to graduate from HCC this year with a film degree.
A documentary made by Butler named Invisible follows her and other homeless students telling viewers their experiences on being homeless. Those students being Bishop Moses Belton Sr. and Jimmieka Mills.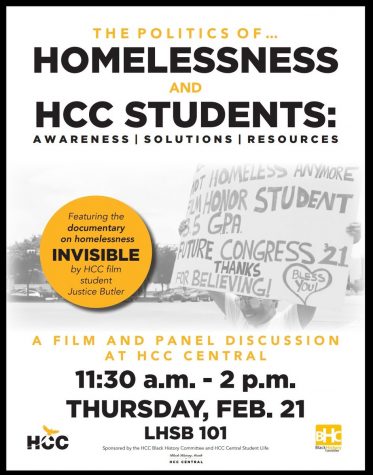 Biggest Plights
HCC Advisor Karl Mayes introduced the panel (Dr. Jimmy Adams, Gina Monti, Bishop Moses Belton Sr., Professor Donny Leveston, Justice Butler, Will Symmes, Jimmieka Mills, Professor B.K. Smith) and asked what their biggest plight is.
Dr. Jimmy Adams, Dean of Media Arts and Technology at HCC whose biggest plight is to identify who our homeless students are, and which students have barriers who are preventing them from being successful, helped Butler get $25,000 in scholarships.
Noah Rattler, a longtime advocate for homelessness walked 1,800 miles on behalf of the homeless from Houston to Los Angeles in 2007.
Rattler spoke on his experience on homelessness and said, "When I walked past a person and they stood up to say something to me… I assumed they were going to ask me for some change or they could have been just saying hi but I walked by them like I didn't see them… fast forward a few months, I'm walking to Fort Worth, Texas from Dallas and I asked somebody for directions and they walked past me like they didn't see me."
He speaks about the turnaround and how being felt invisible made him realize how important it was that they reached out to the people in their communities that need a helping hand and that even the simple gesture of recognizing their humanity helps. Rattler had an event named the "Houston Sleep Hour" where people spend a night outside and have people from the Helms community to go and speak and educate the audience, and people from organizations on how they could help. Rattler also has a children's book called "Noah's Walk".
"Through communication, we are not invisible."
Bishop Moses Belton Sr. a student from the University of Houston who comes to HCC from time to time to take classes. Milton has been an advocate for homelessness for many years and has been in and out of doors voluntarily and involuntarily. According to Milton, there are four types of homeless: the addicted, the mental, the ill, and soon, the unemployed.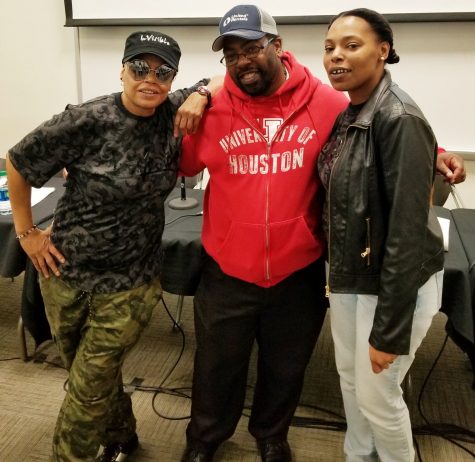 Professor Donny Leveston a disabled veteran and now HCC English professor found himself homeless for two years in Seattle and Tacoma, Washington. He is a Ph.D. student currently working on a dissertation focusing on disabled student veterans who matriculated and graduated from a community college or workforce programs and entered four colleges or university. His hopes and ultimate plight is to help them succeed and find the success they so desperately need.
Will Symmes the director of volunteers for the Lord of the Streets church and day shelter which provides mail services, a vision clinic, health clinic, they also provide clothing to the homeless. His role in life is to mend the brokenness that exists, whether it be mental illness, drug addiction, or just situational homeless.
Jimmieka Mills, a former HCC student who recently got her degree in July, she wrote a story about Justice Butler while she was the Editor-in-Chief for The Egalitarian. Mills is currently working as a consultant for Lumina Foundation that grants money to organizations to other originations that help homeless students. Mills' plight is to help students have the necessary resources to not only get students into college but to get through college.
B.K. Smith, a speech communications professor at HCC who has taught many homeless students, and students she probably did not know were homeless. She believes that "through communication, we are not invisible". Her biggest plight in life is to live long enough to see Justice Butler be Mayor of Houston.
"What can we do to change this?"
The discussion spoke about needs and changes for homelessness, they plan to make a task force which specializes in looking for homeless students. Karl Mayes asked the panel "what are some needs the homeless need first and what changes can be made to get us there?"
Donny Leveston jumped in and said, "we can probably procure some reasonable apartments complexes around midtown for our students… And allocate financial aid for that housing… dormitories are one option but again we have to look at what building do we already have that is already available to move in as opposed to building a structure from the ground up."
Karl Mayes had to interrupt the discussion for a moment and said, "I want to make sure we stay locked on… we don't want to run into this entire complaint system we want to make sure we come up with solutions. I think the biggest thing we all have a tendency in doing, not on purpose is being able to voice the complaints in what we don't have… In order to be able to get to a solution or into aspect let's try to stay on task on what being able to propose some things that can possibly be talked about in having… and not so much on what we don't have."
The panel agreed to find out how we should categorize homeless students such as are they HCC students, high school students, community students and then do an outreach.
Other needs mentioned were:
Needs Assistance
Hiring faculty and staff that create a culture and community that allow students to be vulnerable enough to say they are homeless.
Have HCC Culinary students cook at the Lord of the Streets Church
State on all classroom syllabi asking if students are homeless
Using the HCC Central Fitness Center showers for hygiene
Have HCC Admissions add an option for students identifying homeless students
Adding more lounge areas on HCC campuses for students to rest
Adding a list of resources available on The Egalitarian's website.
About the Writer
Joey Garcia, Sports Editor
Joey is a communications major working to become a journalist. Originally pursuing a degree in automotive technology, he was persuaded by his passion for...