Students lobby at capitol
AUSTIN, Texas – Students joined Houston Community College trustees in lobbying for the college at the Texas State Capitol.
Fourteen HCC students traveled to Austin for Community College Day on Tuesday, Feb 7 when students from community colleges across the state swarmed the capitol grounds. The Texas Association of Community Colleges hosts the event every legislative session.
HCC Students visited the offices of state senators and representatives who represent HCC's district. They spoke with elected officials and their staffers.
Each of the students was able to share how the college has made a difference in their lives, and why the college should continue to receive state funding from the state's tight budget.
This fiscal year, HCC received over $70 million in state appropriations which means state money is 21 percent of the college's total budget revenue. For comparison, 35 percent of the college's budget comes from tuition and fees while 44 percent comes from HCC district taxes and other local income.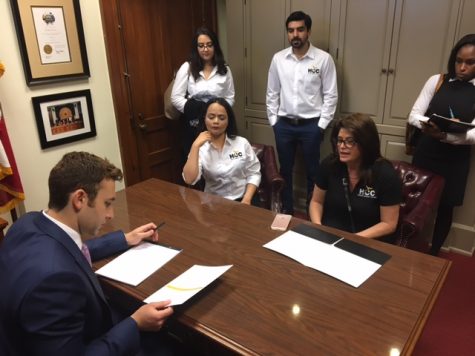 Most students chose to go knocking on the office doors of elected officials with one of the five trustees who came to Community College Day. Board Chair Eva Loredo and trustees Adriana Tamez, Carolyn Evans-Shabazz, Robert Glaser and John Hansen all visited elected officials accompanied by students and a member of the college's legal counsel. Three students chose to visit elected officials on their own, accompanied only by United Student Council Advisor Troy Jefferson.
"My biggest takeaway is to realize how much the student voice actually matters. I felt empowered today," said Mona Colter-Mosley, the student government president of the Central and South campuses. Mosley said that with the trustees, the students worked "hand and hand to accomplish one common goal."
Besides state appropriations for the college, HCC's current Legislative Initiatives includes advocating for requiring all public institutions of higher education in Texas to use a common course numbering system. This would help students understand what are the right courses to take before transferring and would make transferring smoother because a class like U.S. History I would be called HIST 1301 at all public colleges and universities in Texas.
The HCC students and trustees also advocated for maintaining and expanding state grants to students like the Texas Educational Opportunity Grants or TEOG which provides financially needy students enrolled in Texas public two-year colleges money to afford college.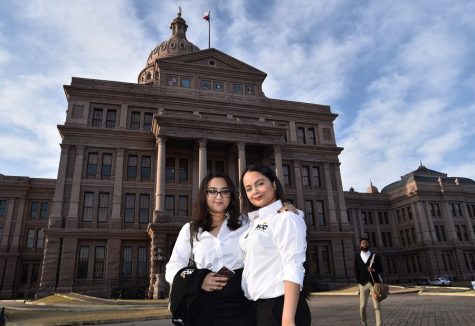 Keji Folawiyo is the southwest student government president, she spoke about how she was able to make connections with legislative staffers and meet with her representatives.
"It feels nice to know that although I'm about three hours away from the capitol, these guys are looking out for us and they actually care about us and want to listen to what we have to say," said Folawiyo. She said that she will "go back to school feeling like you're important, that we all are important."
"I think this was a really successful trip," said Dominique Williams, the parliamentarian of the Southeast Student Government Association, "it wasn't just come up and watch things happen, but we actually got the chance to do something as well."
HCC Chancellor Cesar Maldonado visited with students the evening of Monday, Feb 6 when they arrived in Austin. Maldonado thanked the students for coming and reminded them how important it is that they are representing the college to legislators.
Most of the students who participated in Community College Day are student government officers, or they hold leadership titles with other campus clubs and heard about this opportunity through their club advisors or student life coordinators.
__
Editor's Note: The HCC Egalitarian News Editor Alyssa Foley participated in Community College Day.
Leave a Comment
About the Contributor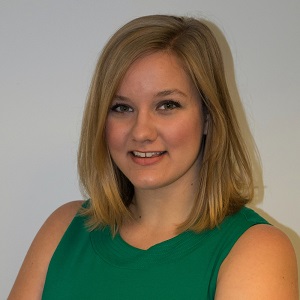 Alyssa Foley, Editor
Alyssa served as The Egalitarian editor-in-chief from October 2014 - May 2016, and she served as the news editor from January 2017 - May 2017. She transferred...