Jack Kent Cooke award semifinalists
Four Houston Community College students are semifinalists for the prestigious Jack Kent Cooke Undergraduate Transfer Scholarship.

The scholarship allows high-achieving, low-income students attending community colleges to continue their education and achieve their dreams of earning a bachelor degree at selective four-year colleges and universities. HCC students Abigail Gonzalez, Thao Nguyen, Josue Rodriguez and Ahmad Sayyedahmad are being considered for the $40,000 per year scholarship, which is good for up to three years.
The HCC students are among the 597 community college students from across the nation who were chosen as semifinalists from nearly 3,000 applicants. Locally, one San Jacinto Community College student and ten Lone Star community college students are semifinalists.
The list of semifinalists was announced on the foundation's website on Jan. 12. This is the first year the foundation has published the names of semifinalists.
"Hopefully students are able to use the [semifinalist] distinction when they're applying to four-year colleges, it can sometimes bolster their application in admissions decisions," said Amber Styles, the digital marketing strategist at the Jack Kent Cooke Foundation.
"The students that we select as the semifinalists are students whose applications really stood out," said Styles, "we're looking for well-rounded students."
In April, the 60 scholarship recipients will be revealed. It's been over five years since an HCC student won a Cooke transfer scholarship, and two years since any HCC students have made the semifinalist round.
David Wilcox is the scholarship's official campus representative at HCC, he is the director of the central campus Honors College. Three of the semifinalists are his students at the Honors College, and Wilcox is proud of them.
Sometimes Wilcox identifies students who would be good candidates and encourages them to apply, other students, come to him and ask if they would be a good fit. He isn't shy about telling students no. "It's not for everyone," Wilcox noted.
The ideal candidates for a Cooke scholarship are people who are academically gifted, have a record of giving back to their college or community and who face financial adversity. Wilcox said that students with the required 3.5 GPA or greater but no community service are not good candidates for this scholarship.
"Sophomores who have done a lot in their freshman year are going to be the best, best picks," said Wilcox.
Next year's transfer scholarship application will open in August. For those interested in applying, Wilcox advises that they "begin to develop that resume that shows selfless giving and to keep up the good work in terms of academics."
Wilcox added that "Scholarships like this oftentimes are looking for a good story, and there are ample opportunities as you write about yourself to tell a good story."
Each of the four HCC semifinalists have personal narratives which empower their lives, ambitions and selfless service.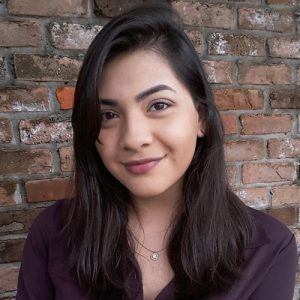 Abigail Gonzalez
Abigail Gonzalez is a full-time student at the Honors College studying environmental science and engineering.
Gonzalez is from Puebla City, Puebla, a large city in Mexico, where "there were barely any trees…I never knew any nature in Mexico, other than what I saw on the Discovery Channel." She was curious about nature when she moved to the U.S. at 10-years-old.
For years she has volunteered with the Wildlife Center of Texas caring for injured wildlife, and with the National Wildlife Federation teaching children the importance of conservation. During an internship with Rice University, she helped develop energy-efficient Lithium-ion batteries. Gonzalez also serves as the president of the Science Club at HCC Central and is vice president of the central Honors College Club.
With the Cooke scholarship application, she said, "The most difficult part was trying to put into words my passion for what I want to pursue."
Gonzalez is applying to Rice University, the University of Illinois at Urbana–Champaign and the University of Texas at Austin.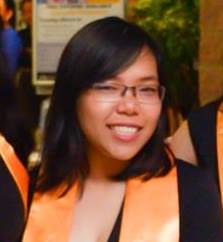 Thao Nguyen
Thao Nguyen is an international student at the Honors College studying chemical engineering. She wants to work in environmental science and agriculture.
Nguyen explained that she hopes to someday help her home country, Vietnam's economy is heavily based on agriculture and suffers from environmental issues.
On top of her full-time course load, Nguyen works part-time at the central campus library and is the president of the Student Library Advisory Council. She also participates in Model Arab League and is vice president of membership of Omega Sigma, HCC's internationally ranked Phi Theta Kappa Honor Society chapter. Off-campus, she volunteers as a Vietnamese teacher and for the Star of Hope.
"I was really surprised that I got it," said Nguyen about the semifinalist distinction. She considered not applying because she did not believe her application would be competitive. Her advice to other students is to "just try it because you never know what you're going to get."
Nguyen plans on applying to the University of Houston, Texas A&M, the University of Texas at Austin, the University of Minnesota and Virginia Tech University.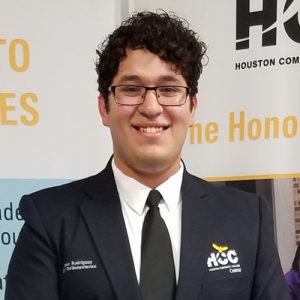 Josue Rodriguez
Josue Rodriguez is a full-time student at the Honors College studying government and pre-law.
He dreams of being a lawyer for the United Nations or immigrant rights organizations. Rodriguez has a personal connection to his studies as a DACA or Deferred Action for Childhood Arrivals recipient. He was initially attracted to the Cooke scholarship because unlike with many scholarships, there is no citizenship requirement.
Between his studies and working nearly full-time, he somehow makes time to serve as the United Student Council or student body president of HCC. He represents students on the college's Diversity and Inclusion Council, among other committees. Rodriguez also participates in Model Arab League and is the president of HCC's Phi Theta Kappa chapter.
Rodriguez admitted that the Cooke scholarship application "was nerve-wracking." Only about 0.02 percent of applicants will be awarded a scholarship this year. He found the numbers discouraging, but his mentors encouraged him to apply.
He is applying to Georgetown University, Stanford University, the University of Texas at Austin and the University of St Thomas in Houston.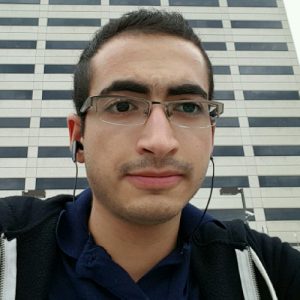 Ahmad Sayyedahmad
Ahmad Sayyedahmad is a chemical engineering major attending the HCC Spring Branch and Katy campuses.
"Chemistry is my passion," said Sayyedahmad, who plans on pursuing a master's and doctorate of material science.
Last summer he helped conduct computational Chemistry research during a materials science fellowship at the University of Houston. Between a full-time course load and working part-time, he also volunteers in the emergency room of a Methodist Hospital and is a volunteer tutor.
Sayyedahmad's advisor told him about the Cooke scholarship five days before the deadline and encouraged him to apply. He wrote the required essays within two days. He said, "If you want to do it, you can do it no matter what."
Sayyedahmad is applying to the University of Houston, Rice University and Texas A&M.
Leave a Comment
About the Contributor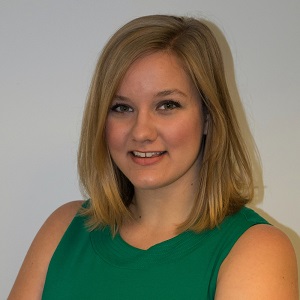 Alyssa Foley, Editor
Alyssa served as The Egalitarian editor-in-chief from October 2014 - May 2016, and she served as the news editor from January 2017 - May 2017. She transferred...