Houston braces for Cold Summer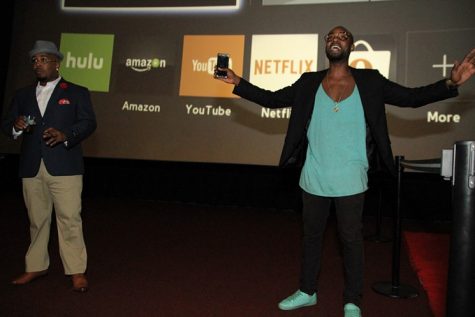 Local rapper, director and filmmaker, Q. Guyton recently released his short film Cold Summer in collaboration with fellow Houston rapper Doughbeezy. The sold-out premiere was held at AMC 30 July 25 and although the audience featured Slim Thug who also had a cameo in the film, the grand applause was held for Guyton himself who wrote, starred and directed the short film.
The event was a reminder for Guyton to continue to strive for his dreams which were a bit different about four years ago.
"I was working in the oil and gas field but after about five years I was laid off after the economy took a huge hit in 2012."
Guyton who had worked in computer engineering, electrical engineering, mechanical engineering and IT found himself at a cross road being forced to make a decision that would ultimately change the trajectory of his life.
"I was given an option to go to Kuwait or Qatar but my wife was pregnant and I didn't want to leave so I stayed. That's when I decided that I was going to take my music career more seriously," says Guyton.
The rapper was considered gifted and talented in math and science and was encouraged to be an engineer or an architect. He recalls being praised more for his ability to calculate things than for his musical gifts, but he never stopped creating music.
"I never really saw myself as a professional rapper, but I always wanted to rap. I built a small studio wherever I lived, and there was always a microphone hooked up to a computer somewhere I could record."
Though the music poured out of him effortlessly, he realized that it would take a lot more to garner the  support he needed to achieve his goal.
"I really believed that in 3 to 4 months I was going to be able to establish myself in the city as a rapper and be booking shows. Of course that didn't work out," says Guyton.
His faith waivered until he began to realize all the tools he already had at his disposal.
"Having gone to college and having a career as an engineer I had developed skillsets that I was able to build on. I learned how to do videos, take pictures, edit music, do websites and just random things that people need done in the city in order for me to make enough money to not have to give up on my musical dreams to go back to being an engineer."
Ultimately he would network and build a team of individuals that now comprise Guyton's company Aint Nobody Fresher.
It may be hard to believe that less than five years ago the University of Houston Alum who majored in Computer Science was unemployed and now is filling up movie theaters and soon to be packing WareHouse Live for Houston Trends Cold Summer Jam, but Guyton credits his education for his success.
"Although my profession now is not what I went to college for, the skills that I acquired while in college were the keys to my success."
Q Guyton and Doughbeezy will be headlining the WareHouse Live  Houston Trend Cold Summer Jam August 8 Featuring: Jay-Von and Dante Higgins w/Undergravity, Onehunnidt, Rosewood Thievz, Big Fatts, Jon S, & Denaron
To order tickets online go to warehouselive.com
WANNA GO TO THE SHOW?
SHARE THIS ARTICLE AND HASHTAG #ColdSummer FOR A CHANCE TO WIN 2 TICKETS TO THE AUG .8 show!!!
For more information on Q. Guyton and future projects check out ANFtv.net