Latino turncoats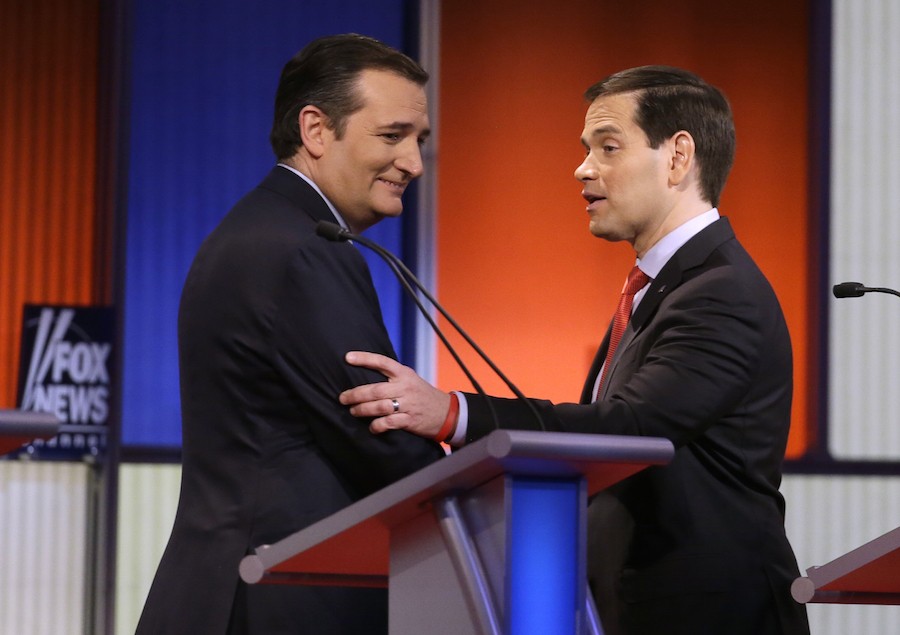 America is becoming more and more progressive overall, despite recent evidence to the contrary.
Who do you hope will be elected president?
Hillary Clinton (29%, 65 Votes)
Bernie Sanders (25%, 57 Votes)
Tupac Shakur (14%, 32 Votes)
Donald Trump (11%, 25 Votes)
Vote for me! (8%, 18 Votes)
Ted Cruz (5%, 12 Votes)
John Kasich (2%, 5 Votes)
Marco Rubio (2%, 5 Votes)
Jeb Bush (1%, 2 Votes)
Ben Carson (1%, 2 Votes)
Roque De La Fuente (0%, 1 Votes)
Jim Gilmore (0%, 1 Votes)
Total Voters: 225

Loading ...
Anyone who wasn't a white land-owning male 200 years ago didn't have a right to vote. Eight years ago, we elected our first black president.
Anti-sodomy laws were upheld in Texas until 2003, but today everyone has the equal right to marry whoever they choose.
Until the mid-nineteenth century, a woman's rights were in the hands of her husband upon marriage. Women couldn't be employed without their husband's consent. Today, the eighth-richest person in the world is a woman, and the United States has had three female Secretaries of State.
America becomes more inclusive and diverse with every passing day.
This presidential election is disillusioning. It seems like as a country, the U.S. has lost the potential for improvement and the momentum we built up in the last few decades is stagnating.
Primarily in the GOP, campaigns seem to revolve around what candidates will take away from Americans rather than what they can bring to the table and add to our welfare.
There is one group in particular who has been marginalized and bastardized by the Republican Party: Hispanic Americans. They are the sleeping majority who are waking up to face this threat against them.
Conservative values call on the maintenance of traditions. However, it seems strange that the two men who are best equipped—both academically and with practical experience—to smooth over the immigration crisis simply refuse to do so.
Marco Rubio and Ted Cruz are Hispanic, whether they like it or not. They shouldn't be fighting diversity, they should be celebrating it.
This denial of their heritage echoes back to 1950s Texas, when Mexican-Tejano children were systematically discouraged from speaking Spanish. They were often punished for it.
Ted Cruz has done everything he can to distance himself from his father's culture and actively works against others being given the same opportunities he was. He can't even decide if he wants to keep immigrants out.
As Texas Solicitor General, Cruz was on the board of advisers of the Hispanic Alliance for Prosperity Institute—a now-defunct group of Latino conservatives that loudly advocated a path to legalization. By all accounts, he was an active member and used his legal expertise to draft policy positions. The group even fundraised for him during his 2012 Senate race.
Cruz's immigration policy is explicitly outlined on his website. It revolves around blocking off the country to anyone who is not American. First, with a reinforced wall—a literal wall supported by "boots on the ground" and "eyes in the sky," and even a new-age biometric tracking system that records every person entering and leaving the United States.
He doesn't stop there. Now, not even Obama's executive actions enforcing amnesty are safe. "President Obama has issued over 20 illegal executive memoranda rewarding illegality. I will rescind each and every one on my first day in office," stated Cruz.
Latino Americans cannot expect any semblance of assistance from a president who has "increase deportations" listed as part of his platform, and who attacks another candidate for supporting amnesty.
Rubio is equally indecisive, and equally as hostile. He has said that his immigration policy is "not much different than [Cruz's]."
To his credit, he does favor some sort of path to legalization for undocumented immigrants.
Rubio is known to have less extreme views than Trump or Cruz, but Rubio's plan also includes a wall and an army battalion of border guards armed to the teeth with the latest weapons, drone and sensor technology.
Both candidates base their stringent immigration policies on the idea that more immigrants equals more competition for American jobs. They are operating on the assumption that there are enough qualified Americans to fill those jobs, and that Americans actually want these jobs.
In the past, these two men would have been discriminated against and suppressed. In a strange plot twist, they are the ones trying to oppress their own people.
How strange it is to want to destroy the very establishment that allowed your parents to live and thrive in this country, and which by extension, gave you the same opportunities you have had so far.
About the Contributors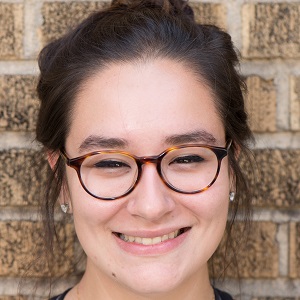 Marialuisa Rincon, Staff Writer
You can reach her at mrincon@hccegalitarian.com