HCC tutors free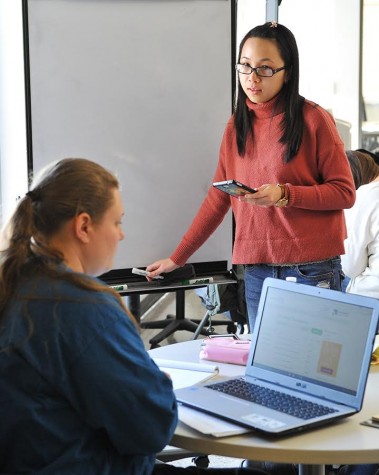 Houston Community College offers their students free face-to-face and free online tutoring in a wide variety of subjects.
"HCC is committed to student success. It's one thing to say it, but it's another thing to put action behind it," said Amanda Vork, the new Director of Instructional Support.
"You know that the actions are there when they're willing to invest so much money in paying for free tutors for the students," Vork pointed out.
"Tutors are getting paid from HCC and not the students," explained Vork. "That's just one of the many ways that HCC is trying to make sure that students have the support that they need to be successful."
Students are probably most familiar with the in-person tutoring at HCC campuses throughout the district. Sessions are on a walk-in basis, no appointment necessary.
"We want to remove obstacles that students might place in the way of getting the help that they need," explained Vork. Being appointment-free makes tutoring more accessible, so does the newly expanded hours, which are rolling out at major campuses like Central.
Most students need help with the big three: English, math and science. However, tutoring is also offered in psychology, sociology, history, government, Spanish and more.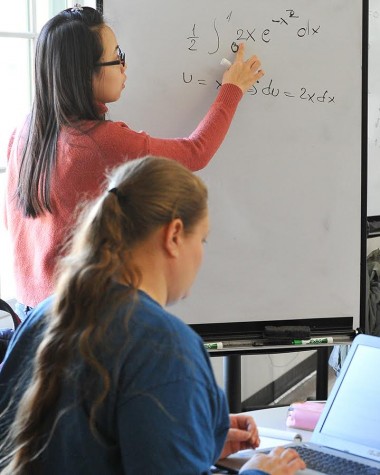 "We're expanding our services to be able to support more workforce programs in addition to the major academic subjects," mentioned Vork.
In the past year, HCC has been transitioning from operating as six separate colleges to one college with twelve centers of excellence. With the transformation, tutoring is no longer segregated by college and subject area; it's all under one department.
"It offers consistency to the students," noted Vork. She previously was the director of the Learning Emporium at Central, before taking over tutoring for the entire HCC system this year.
At Central, students sign-in to an online management system with their W-number and student ID for a tutoring session, instead of on a sign-in sheet. Vork hopes to expand that to other campuses.
Students across town may see more of the Emporium-styled tutoring rooms coming to their campus in the future. The mini-emporium model has already started at several locations.
"Most of the campuses were pulling tutoring under one roof," explained Vork. A student can take a lab report and have it reviewed by a science tutor and by an English teacher in the same room.
Students can find in-person tutoring schedules and locations here.

HCC also offers students free online tutoring, 24 hours a day, seven days a week, 365 days a year.
"It amazes me that with 10 years under our belt here, we still have students and faculty who don't know we exist," said Deborah Hardwick, the manager of HCC Ask Online tutoring.
"You could be sitting at home in your robe and fluffy slippers, and submit a paper before you go to bed, and very often," smiled Hardwick proudly, "it'll be ready by lunch…and it's free."
About 150 thousand student assignments have been submitted through HCC Ask Online since it's inception in Sept. 2006.
"It's our staff, our faculty tutoring our students," explained Hardwick, "Tutors are all HCC faculty, or recent ex-faculty—all teachers of course….Tutors are sitting at home working comfortably."
Online tutoring takes a different form than in-person. "When students submit a paper, tutors can take the time to really reflect on what they're telling students," said Hardwick, "There's not that time pressure of the students sitting there."
With online tutoring in over 25 subject areas, "You can submit it once and get three different tutors working on it for you, and then you put all of that together," said Hardwick.
For example, a history paper would be reviewed by a history tutor for content, a research tutor for correct citations and an English tutor for grammar, structure and organization.
Procrastinators beware; if a paper is due in a few hours "it's not going to happen." Hardwick advises submitting a paper through Ask Online at least two days before it's due to leave time for turn around and second drafts during peak times.
Hardwick stressed the importance of giving tutors as much information as possible. "If the tutor knows what you're supposed to do, we can help you more than if we have to try and sort of guess."
Tutors have helped with everything from cosmetology and zoology essays, plus writing that isn't even an assignment. "We have a separate subject area for résumés, scholarship applications and transfer essays," noted Hardwick.