Nearly 2.5 million people will attend the Houston Livestock Show and Rodeo in 2023, restoring attendance numbers from before the pandemic.
More than 1.35 million people paid to watch 20 rodeo events and associated concerts, the highest Houston rodeo attendance since 2017.
According to rodeo officials, 2,479,004 people attended the 20 rodeo events and associated concerts, a daily carnival, and the three-day World's Championship Bar-B-Que Contest that serves as the event's opening. With the rodeo program being shortened in 2020 and abandoned entirely in 2021, that was the most attendance since 2019, the year before the COVID-19 pandemic.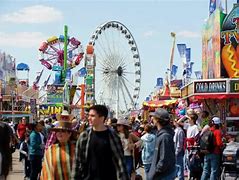 This year's rodeo shows and concerts, which started on February 28 and ended on Sunday, attracted 1,355,367 paid spectators, which was a record high. On the closing day of the rodeo, country music star Luke Bryan drew the largest audience to NRG Stadium with a 74,779-person turnout. On Black Heritage Day, more than 74,000 people came to see the Turnpike Troubadours, Brad Paisley, and Bun B's Southern Takeover.
This year, the rodeo's livestock, school art, and wine auctions established ten financial records. They were winning champagne produced by rapper Curtis "50 Cent" Jackson and his business Sire Spirits and sold for $325,000 at the Rodeo Uncorked! Champion Wine Auction is one of those marks.
The junior livestock and art sale brought in more than $22.6 million. According to rodeo officials, more than $22.5 million has been committed to helping young people in the Houston area and throughout Texas through scholarships, grants, and other educational initiatives.
Three hundred sixty cowboys and cowgirls participated in eight different rodeo events, winning over $2.1 million in cash prizes. Breakaway roping, a second women-only competition besides barrel racing, was included in every show for the first time this year. Last year, the festival debuted in Houston and lasted seven days.