Top Breweries in the Heart of Houston
According to Google Reviews
Within the confines of Interstate 610 in the heart of Houston, Texas, lies over 15 local craft breweries. According to the Brewers Association, the majority of Americans live within 10 miles of a craft brewery so you may live close to a brewery and not even know it! Oxford Dictionary states a brewery is a factory where beer is made or a company that makes beer. For this particular brewery list, the ones that were ranked brew a majority of their own beer and don't have a large selection of other companies' brews like a brewpub would have.
There are more than 50 breweries in the Greater Houston area, but which ones reign supreme at the center of the city?
Here are the top 5 breweries in the heart of Houston according to Google reviews:
1. Gristworkz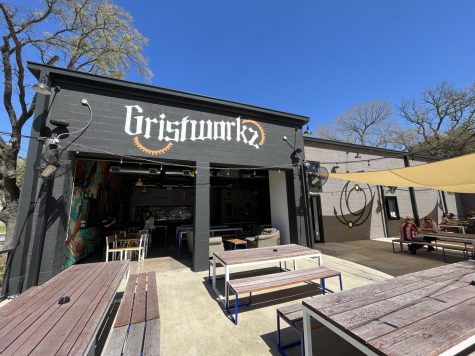 According to Google, patrons have tapped Gristworkz as the top brewery located in the heart of Houston. Dawning a near-perfect 5-star rating at 4.9, Gristworkz has reviewers praising the great-tasting cocktails, ample parking and even their vegetarian pizza!
Originally launched in early 2020 under the name Local Group Brewing, Gristworkz rebranded and reopened in the Fall of 2022.
They have plenty of beers on tap such as the Corn Star, a light American lager, the Peach Buzz, a peach blonde ale, and Dipstick, a bourbon barrel-aged imperial stout.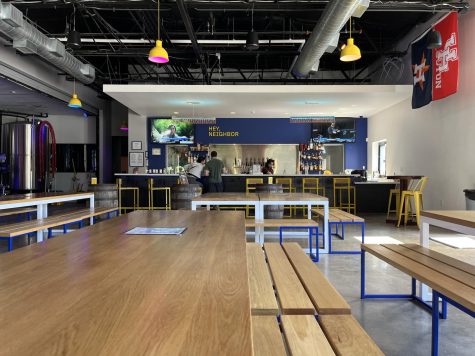 Gristworkz also sports a drink menu with classic cocktails and a weekly special food menu that contains different specials for every day of the week. Gristworkz even hosts events such as trivia, running and cycling nights, silent discos and more.
Gristworkz is located at 1504 Chapman St., Houston, TX 77009 and is open:
Monday to Wednesday from 4 to 10 p.m.
Thursdays from 4 p.m. to 12 a.m.
Fridays and Saturdays from 11 to 12 a.m.
Sundays from 11 a.m. to 8 p.m.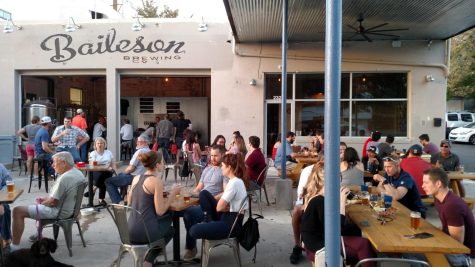 Coming in 2nd among the highest-rated breweries in the center of Houston is Baileson Brewing Co. This brewery is only a tenth of a star rating behind Gristworkz and has over 225 reviews. Patrons rave about the dog-friendly atmosphere, the delicious and convenient food trucks and the laid-back patio.
Baileson was founded by Adam and Sarah, a husband and wife team who love craft beer and focus on brewing hand-crafted ales that they themselves love to drink. They previously brewed beers in their garage at home until one day in 2015 they began formulating a plan to bring Baileson to life.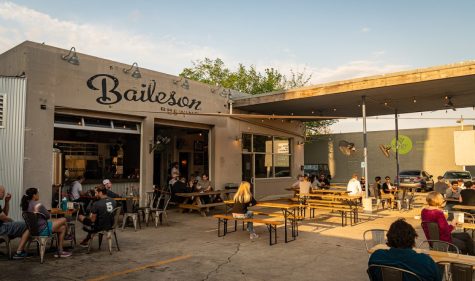 The name of the brewing company "Baileson" is a concatenation of the owner's dogs, Bailey and Jameson. The brewery is a 1,600-square-foot building that was originally constructed in 1950 where it served as a gas station and then an auto-service station from the mid-1970s on.
Baileson Brewing specializes in ales, which use top-fermenting yeasts, ferment at warmer temperatures, and generally have more full/robust flavors. They brew new beers monthly but some beers they've had on tap include the Puggle Fuggle, a brown ale, and the Juice Box Hero, a fruited hazy IPA.
Baileson Brewing Co. is situated in the neighborhood of Boulevard Oaks, just north of Rice Village at 2322 Bissonnet St., Houston, TX 77005 and their hours are:
Closed Monday to Wednesday
Thursdays from 4 to 9 p.m.
Fridays from 4 to 10 p.m.
Saturdays from 12 to 9 p.m.
Sundays from 12 to 8 p.m.
3. Saint Arnold Brewing Company
Saint Arnold Brewing Company may come in third according to its Google star rating of 4.7, but it has above and beyond the most reviews on the list with over 2,700 reviews. Saint Arnold reviewers most commonly praise the beautiful beer garden, the tasty house-made root beer and the famous Saint Arnold staple, the crawfish roll.
Founded by Brock Wagner and Kevin Bartol, Saint Arnold Brewing Company is considered Texas' oldest craft brewery with its first keg of beer shipped on June 9, 1994.
Saint Arnold has a vast variety of beers to taste ranging from year-round, seasonal and limited-release beers. Some year-round beers found on tap include Lawnmower, a German-style Kolsch, and Tarnation, a strong ale with an ABV of 9%.
They also serve cider and non-alcoholic beverages so even those disinterested in beer can still enjoy a drink in the beer garden.
Saint Arnold Brewing Company is located at 2000 Lyons Ave., Houston, TX 77020, and is open:
Monday to Thursday from 11 a.m. to 10 p.m.
Fridays and Saturdays from 11 a.m. to 11 p.m.
Sundays from 11 a.m. to 10 p.m.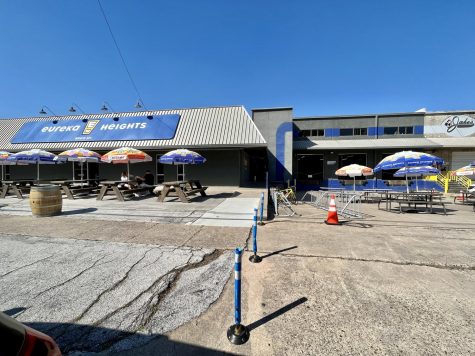 Eureka Heights Brew Co. ties Saint Arnold Brewing Company with its identical 4.7-star rating on Google but lies just under due to it having the second most reviews. According to the reviewers of Eureka Heights Brew Co., the food trucks are a massive hit as well as the overall environment of the brewery with it being kid and dog friendly. Patrons also had high praise for the amount of suitable parking and general open space they have both inside and outside the brewery.
Eureka Heights gets its name from the Eureka Heights fault system, which runs under the brewery. The fault was important during the development of Houston and even has a railroad tower named after it so the brewery thought it would make an awesome name.
Eureka Heights' taproom contains year-round, seasonal and barrel-aged beers as well as their limited awesome beer series or L.A.B.S. Some of their year-round beers include Buckle Bunny, a cream ale, and Space Train, a fruity IPA.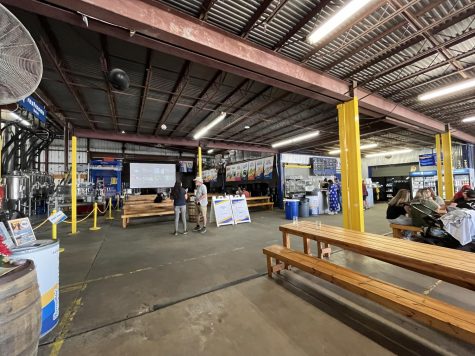 On their website, they have a line-up of upcoming food trucks that are scheduled to be at the brewery. They also host general trivia on Wednesdays at 7 p.m., bingo on Thursdays beginning at 7 p.m. and the Laces Out Running Club where members start a distance run of their choosing at the brewery and receive $2 off beers the rest of the evening after the run!
Want to leave the brewery with an exclusive "I found Betty White at Eureka Heights" sticker? Simply locate a Funko Pop figure of Betty White somewhere in the brewery and notify one of the taproom's staff members to receive your prize!
Eureka Heights Brew Co. is located at 941 W 18th St., Houston, TX, 77008, and their hours are:
Closed on Mondays
Tuesdays from 5 to 9 p.m.
Wednesday and Thursday from 4 to 10 p.m.
Fridays from 3 to 10 p.m.
Saturdays from 12 to 10 p.m.
Sundays from 12 to 8 p.m.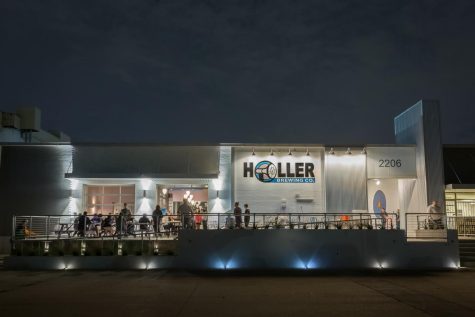 Lacking more reviews than Saint Arnold and Eureka Heights but still dawning a 4.7-star rating is Holler Brewing Co., a laid-back brewery located in Sawyer Yards. Reviewers of Holler Brewing love the solid rotation of food trucks, trying a beer flight, and sufficient onsite parking.
Holler Brewing has a beer list that is constantly changing based on the season. A few unique brews they have on tap are Dollar Pils Y'all, a German-style Pilsner, Ghost Stories, a smores stout, and Freeeedommm, a strong scotch ale.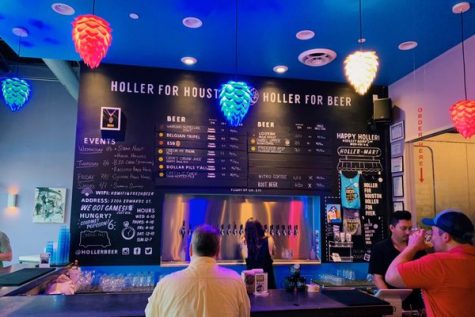 If the beer isn't for you, they also have nitro cold brew coffee, Topo Chico and house-made root beer on tap.
The brewery also hosts events such as karaoke nights, disco nights and free yoga sessions. Also, similar to Eureka Heights' Running Club, Holler Brewing hosts a social run club called the Holler Haulers who meet every Wednesday night at 7 p.m. to participate in a 3 or 5-mile run.
Holler Brewing Co. is located at 2206 Edwards St. Suite A, Houston, TX, 77007, and is open:
Monday to Thursday from 12 to 10 p.m.
Fridays from 12 to 11 p.m.
Saturdays from 11 a.m. to 11 p.m.
Sundays from 12 to 10 p.m.