HBCU Rivals on the Road to Claim Houston | Prairie View vs. Texas Southern Men's Basketball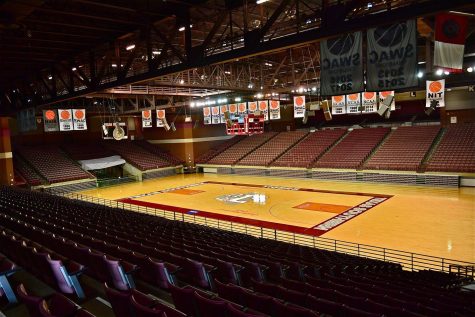 In the center of Houston, Texas. Third Ward aka "The Heart of Houston" was an airy day filled with excitement, rivalry, as tensions peaks with prospective fan walk and prepare themselves for one of the most noteworthy games of the season, as two rival HBCUs (Historically Black College Universities) duke it out for the crown of Houston. Texas Southern University versus Prairie View A&M, settle their business on the court once again for the first time this basketball season. Texas Southern University men's basketball has a leading winning match-up against Prairie View, gauging 17 wins and 11 losses, with an average of 76.82 points per game.
This game was filled with excitement as anticipation of the players filled the Fans with nervousness about who would take the crown tonight.
According to TSU Sports;"The injury bug infected TSU during the first half in a big way, as the team was down two key starters in every SWAC game until January 16. TSU is slowly returning to full strength as the team is 3-0 with the starters back in the rotation and has its first multiple-game winning streak of 2022-23."
As Texas Southern Rains, the Champs of the SWAC. Leading with back-to-back championships in 2021 and 2022. The questions remain, "is prairie view a&m ready to strip that title away from them?" This game, January 28, 2022, at 6pm, was filled with so much adrenaline. From Overcoming injuries, many personal fouls, and a singular ejection. Texas Southern and Prairie View lead into double overtime. Battling passionately for the win.
Since March 13, 2021, Texas Southern has kept the winning streak alive against Prairie View for the past 3 games. The last 3 games against Prairie View has had people on the edges of their seat. During this home Game, Prairie View A&M came to Texas Southern Campus located in the HP&E center, where the tensions were so high, you could feel the physical heat from the atmosphere of the arena emitting from the players, cheerleaders, dancers, band, and the most importantly the fans.
From the restlessness of this game, Texas Southern Loses against Prairie View, Scoring '89-76′ (Prairie view). Breaking Texas Southern's 3 Game streak, also leading Prairie View in a 3-game-slide from previous competitions. Under the head athletic direction of Johnny Jones, this puts him under a 5-5 lifetime match-up against the former TSU Assistant Coach, Bryon Smith, according to TSU-Sports.
Nonetheless, this defeat was yet another victory for both Prairie View and Texas Southern as the rivalry continued, and the future anticipation will persist in exceeding expectations from the audience.