Demi Lovato at 713 Music Hall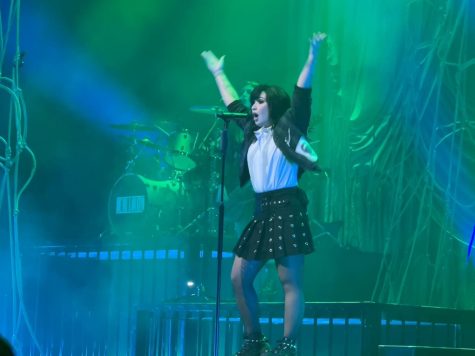 Demi Lovato on stage in Houston at the 713 Music Hall for her national tour The Holy Fvck Tour. Photo: Angelo S. Ortiz Vela
From Child TV Star to accomplished musician and actress, Demi Lovato is a of trauma survivor and they took 713 Music Hall by storm November 3rd with power, sexual pride, and nostalgia.
I was invited the day before the concert and while I was aware Demi had released their new album earlier this year I had not listened to it yet. I am a fan of Demi's first two albums as I grew up with them and know them well, however with Holy Fvck I could tell through the cover  photography / album art that this one was different and had rock and punk vibes. 
The day of her concert I noticed pink bows in different places around Houston, namely wrapped around trees. I later found out that these pink bows are placed by the Pink Bows Foundation. The pink bow foundation is a foundation whose mission is to enrich causes important to the life of Madison Dubiski, a victim of a tragic AstroWorld mass casualty incident in 2021.
Before the concert 713 Music Hall and Demi Lovato's team made sure that fans would face no harm due to being in a large crowd. Water was provided multiple times from the front near the barricades and intended to be passed back to those who needed them. The team did this to such an extreme that some people around me were overwhelmed with how many cups they had to pass back. 
During the opening act the band Dead Sara stopped performing immediately once a singer pointed out there was someone who looked like they were in danger in the crowd. 
I have to highly commend Demi Lovato's team and 713 Music Hall for ensuring a safe evening, especially with the Pink Bows Foundation's work so vibrantly placed in remembrance and to promote awareness around the Houston area. 
Demi knocked it out of the park. Their performance was stellar and though I had seen Demi on tour previously at the Toyota Center in 2016, this was a side of Demi that I didn't know existed. They sang beautifully even while singing about difficult topics like dating someone while there being a significant age difference and also about sobriety.
Demi has unfortunately announced in a series of since-deleted Instagram Story posts that the "Holy Fvck" tour will be her last. I hope that Demi rests and does things that make them happy and if that ultimately requires them to no longer tour, I hope that they know they always have a supporter rooting for them here in Houston.