Campus Safety – Interview with HCC Commander John F. Boxie
Have you ever been concerned about your safety on campus? Are you being harassed, stalked, or experienced a burglary to your car or theft of valuables? If yes, did you report to the HCC Police Department?
The HCC Police Department is equipped and responsible for safeguarding lives and property on campus and is able and willing to assist to resolve any crime-related issue or direct you to the appropriate local police department if it is outside HCC's Police jurisdiction.
In a recent interview with Commander John F. Boxie of the HCC Police Department Downtown, I discussed the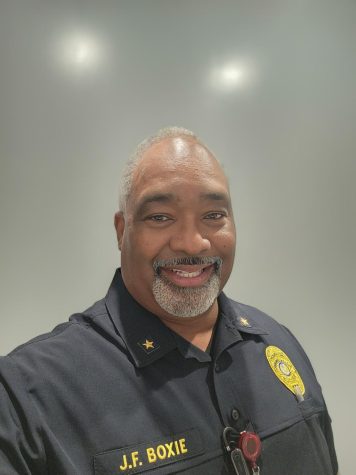 2022 Clery report https://www.hccs.edu/departments/police/crime-statistics–information/clery-report/
and how HCC deals with crime on campus. The Clery report requires colleges and universities to report campus crime policy and statistics.  Commander Boxie said 'that burglaries and thefts do occur on campus and to prevent it everyone should secure their vehicles properly and do not leave personal items unattended.  He advised that 'people should be aware of their surroundings' at all times and "if you see something, say something". This will allow the police to be proactive to prevent crime. He encouraged students to report acts of violence while on campus to the HCC Police 24-hour dispatch because all crimes are reported and investigated.  If someone wants to press charges, then HCC Police will contact the Harris County District Attorney to see if charges are accepted. He advised anyone with a restraining order to inform the HCC Police Department and to call 713-718-8888 if you require an escort to your vehicle.
Other crime prevention options used by HCC Police Department include monthly education sessions for faculty, staff, and students at the campuses where information and flyers are distributed.  Also available are new onboard safety videos on active shooter, safety tips, national night out and more.
Boxie concluded the interview by reiterating that we display our valid HCC badge while on campus for ease of identification.  He also stressed the importance of displaying the HCC parking permit.  Let's familiarize ourselves with our surroundings and tell someone when we see something. The HCC Police Department is here is to assist, see link for details www.hccs.edu/police.  In an emergency on campus, call 713-718-8888 or 911 for immediate assistance.
Crime prevention is a joint responsibility. We all have a part to play in keeping our campus free of crime.