ASTROS BRING ANOTHER WORLD BASEBALL CHAMPIONSHIP TO HOUSTON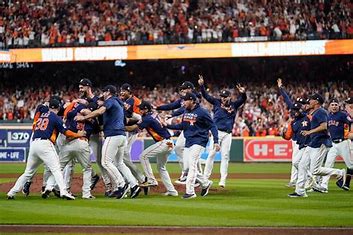 On Saturday November 5, 2022 the City of Houston, Texas was filled with excitement as Game # 6 of the 2022 Major League Baseball World Series Championship between The Houston Astros and The Philadelphia Phillies had taken place at Minute Maid Park, also known as "The Juicebox" in front of a sold out Houston Astros hometown crowd.
The Astros were leading the best of the world championship seven game series 3-2 with hopes of brining another baseball world championship to the city with the first championship being in 2017. Back then during their first championship title run, The Astros were in the midst of major controversy which included a cheating scandal where other major league baseball playoff teams from 2017 were complaining to major league baseball officials that the Astros were using unfair practices and tactics to their advantage in gaining victory throughout the playoffs and also the world series championship that year.
Major league baseball had dealt the Astros a heavy punishment shortly thereafter winning the championship including a major fine and lost of draft picks. despite the setback's, the team stayed focused, determined, worked hard, and also kept battling back non stop to return back to the world series championship once again, which they did both in 2019 & 2021 only to lose both of those times.
During this past baseball season, the Astros were motivated and dedicated to bring another championship to the city in spite of traveling to opposing teams stadiums and being constantly booed, jeered, and also ridiculed by opposing teams fan base for what happened in 2017. You can tell that the excitement and feeling of a second world championship was in the air at Minute Maid Park will soon be forthcoming when Astros left fielder and designated hitter, Yordan Alvarez, had hit a huge three run home run off of Philadelphia Phillies receiver, Jose Alvarado.
That was the beginning of the end of the Phillies world series title hopes as Houston won the championship with a 4 – 1 victory with Astros right fielder Kyle Tucker securing the victory by catching a pop fly off Nick Castellanos of The Phillies in foul territory. The Championship celebration began immediately after.
Houston Astros manager, Dusty Baker, had finally won a world series championship after being hired in 2020 (during the pandemic), helping guide the team to both the playoffs and world series during his tenure here. Baker has been in involved in major league baseball for over 20 years as a player, manager, or coach.
Astros Shortstop, Jeremy Pena, playing in his first full major league regular season, replacing departed former Astros shortstop, Carlos Correa, was named the 2022 World Series Most Valuable Player. In addition to his MVP Trophy, Pena also won a Gold Glove Award  and American League Championship Series Most Valuable Player award when The Astros defeated The New York Yankees to reach The World Series.