Astros drop their first game of the Postseason. Go down 0-1 in the World Series.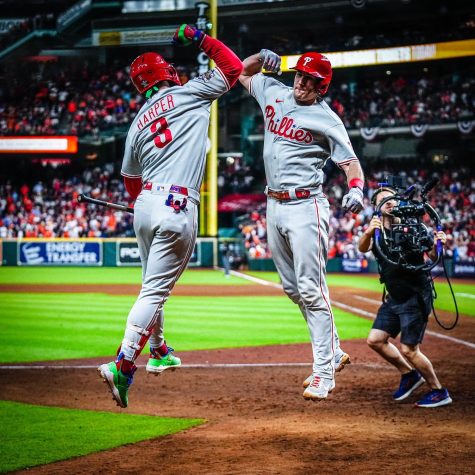 Game 1 Of The World Series.
The Astros finally lost a game in the postseason.
Unfortunately, the picked an odd time to lose as they just given up home field advantage in the playoffs after finishing with the AL best record.
Leading up to Game 1 of the World Series, one of the major storyline revolved around the Astros pitching vs the big bats at the top of the Phillie's batting order. And if the Phillie's pitching could answer the challenge of suppressing Houston's at bats.
After a mild opening inning, Kyle Tucker started the action with a solo shot to right field to put the Astros up 1-0. Later that same inning, Martin Maldonado hits a RBI single to put the Astros up by 2.
An inning later, Kyle Tucker hits a three shot homer to put the Astros up 5-0.
Those big bats of the Phillies decided to wake up at the top of the 4th. Bryce Harper hit a RBI single to put Philadelphia on the board. Two batters later, Nick Castellanos hits a 2 run single to cut the deficit to 3.
At the top of the 5th, Brandon Marsh leads off with a double.
Marsh leads off the 5th inning with a double. And yet again, two batters later, J.T. Realmuto hits a two-run double to knot the game up at 5 a piece.
J.T. Realmuto emerged as the hero for Philadelphia hitting the game winning solo shit in the top of the 10th inning.
This come from behind victory continues a trend for the red hot Phillies who've won 4 straight come from behind victories.
As for the Astros look to redeem themselves and tie the series up tomorrow night.