Let's Highlight Keila Rodriguez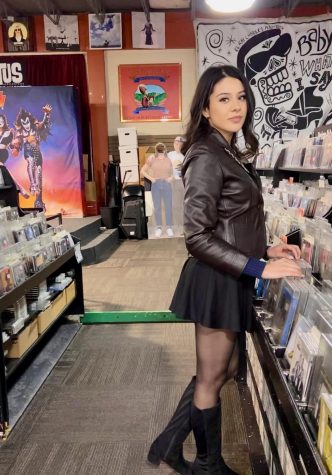 Houston Community College has a wide variety of cultures and classes. Students of all ages and students of all walks of life attend with hopes of ending each semester better than they were once they started their journey. It is very easy to seem as if you do not have anything in common with the person sitting next to you in your biology classes, anthropology, math, etc. Different feelings of anxiety about our self-worth haunt us all once you are trying to improve your intellectual resume. Amongst the chaos of the COVID-19 pandemic, mask mandates, and age differences throughout the college, sometimes you get the opportunity to make some sweet memories. With an assignment given to me by my Communication Professor Fredrick Batiste, I got the opportunity to meet one on one with a fellow student by the name of Keila Rodriguez.
As I sit at my desk I am taken back to a FaceTime conversation I got to have with Miss Keila Rodriguez. She is a Communication Major specializations in Mass Media Studies with the goal of graduating on May 12, 2022. Keila has put her 22 years around the sun to great use. Keila and I share the same zodiac sign of Aquarius. Aquarians tend to be free-spirited, eccentric, and creative, they are also humanitarians. I found all of these traits in Keila Rodriguez. 
 Keila's journey to Houston Community College was a lot different than my own. She graduated from a college prep boarding school in a small town known as Highland, TX where she was awarded a scholarship to Houston Baptist University. After attending HBU for a year she discovered that it was not for her. University life works differently once you walk the halls and travel a path you never have before. Keila found her interest changed in that growing process. It was not until she arrived at Houston Community College that she began to feel that this is where she belonged.
 Last spring Keila achieved her first degree in Multidisciplinary Studies here at HCC. This intelligent young lady still felt incomplete with what she had to offer the world. It took a magazine assignment from her Intro to Mass Communication class with Professor Abernathy for her to start seeing the beautiful colors of her future form. Keila's research at the library changed her perspective on what path she wanted to take. Keila stumbled upon The Art-Form Magazine and as she flipped through the pages of the magazine engulfed by the images and words flowing from the pages she had an overwhelming feeling of self-worth that she wanted to feed into others. Without dismissing the other achievements that she had gained so far, her AA in Communications is the one she will be most proud of. 
Keila and I both shared the position of being the second born in a family of four. With this, we both want to be an example for our younger siblings. She believes in "Not finding your purpose, but making your purpose." Keila Rodriguez is a first-generation immigrant who has hit the pavement hard to improve herself not only to make her parents proud. Keila is the first amongst her family members to achieve higher learning.  The Christian values that have been instilled in her by her parents have aided in her perseverance through hardships that might have sunken others. "Everyone has a different path to the finish line," says Keila who also shares the idea of failure not being an option. With her autodidactic impulses, I feel she will not be the last amongst her siblings to continue their education. 
When she is not working on her second Associate's Degree she answers to another name. To her early college and STEM students at a High School near her in the North East area of Houston, she's Ms. Rodriguez where she works as a tutor. Taking the initiative to improve the skill set of those younger than herself is impressive. Keila's goals are aligned with HCC's mission statement which is to provide students with an educational experience that is relevant, effective, and engaging. It was refreshing to speak to someone different in so many wonderful ways yet was very relatable. 
Keila Rodriguez with your love for fashion, art, and the enthusiastic energy you possess for bettering the youth of tomorrow; I know you will put those degrees to good use and achieve your goals. Thank you for shining a little hope for our future on this third planet from the sun.