Duolingo: Perfecting a Language Is Now Easier Than Ever
Duolingo is one underrated language learning app. Besides the fact that it is completely free, it only takes a few minutes a day to hone your skills. Duolingo makes AP level work effortless, fun, and frankly, addictive.  
Between March and Aprill 2020, there was a 51% increase in new learners on Duolingo in the US compared to the same period in 2019. It is the world's "most downloaded education app" and offers over 100 courses teaching 40 languages. This multidimensional app provides lessons for endangered languages like Navajo and Hawaiian. Duolingo has recently added South African languages Zulu and Xhosa to their catalog.
Much of the app's popularity was a result of global shutdown during the Covid-19 pandemic, but this hobby is beneficial enough that it naturally evolves into a routine. 
Signing up only requires an email address. Users also have the option of linking to a Facebook account for easier and quicker access. Once you pick a language, a 30-second questionnaire appears asking questions about your goals and purposes for using the app, nothing invasive. Duolingo does require a five-question placement test to determine what lessons are appropriate to begin with. 
Lessons are composed of chronologically ordered units based on your proficiency. Unit 1 consists of elementary level course work such as greetings, basic vocabulary and phrases, present tense, past tense, numbers, etc. Units get gradually harder, but remain manageable. Each section eases you into new objectives by adding visual hints and indications. Aside from the basic exercises, Duolingo values eloquence by implementing follow-along stories and audio lessons that guide you through conversations taking place in real scenarios like at the supermarket, school, and restaurants. A diverse selection of lessons to learn each unit's objectives has soothed my learning experience. The depth of practice in both casual and professional conversations are incredibly helpful in grasping proper conjugation and pronunciation as you advance.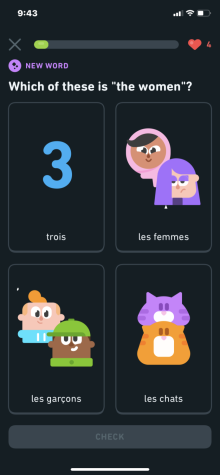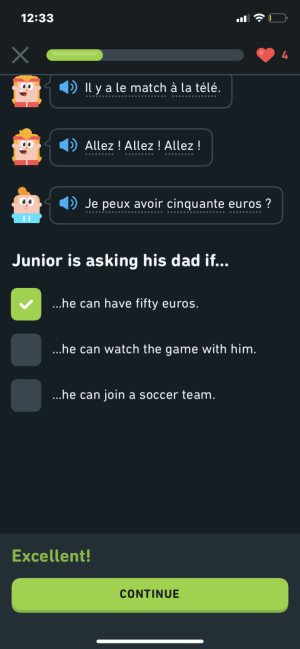 Once you complete a lesson, your weekly statistics will begin to appear on your profile. Stats include your daily streak number, current league, badges, experience points (XP), achievements, and weekly reports. All this information is public, so you can view other users' stats alike. Users can also add friends by scanning their contact list, sending invitation links, connecting through Facebook, and the good old fashioned username search. 
Duolingo does an impressive job at incentivizing users. The app strikes you with daily and monthly challenges/quests that reward users with gems, badges, hearts, and double XP lessons that all contribute to your statistics. Your stats determine your position on the global scoreboard, which is updated weekly. You are competing at all times with people all over the world. So, users can either be promoted to the next league or demoted to a lesser league, all depending on your total XP points of the week.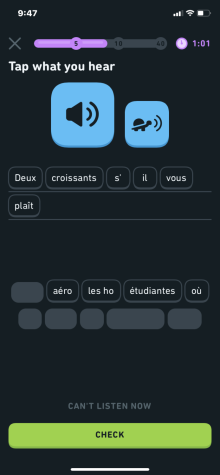 Advertisements also serve as incentives. You have the option to watch, or skip, 15-60 second ads to earn more hearts and gems. These rewards are handy because hearts grant more attempts during a lesson, and gems allow you to purchase more challenging courses to accumulate more XP points. I will say that the ads are as annoying as I expected. Some are interesting, particularly the ones about money management and accounting. Duolingo knows their audience, and they know exactly how to keep them involved. 
Despite all its goodness, there are a few characteristics of the app that I hope Duolingo refines.  
Duolingo previously had a chat bot and group chat feature in which users could exchange text and audio messages. Unfortunately, Duolingo removed these feature a few years ago. I hope Duolingo adds another live collaborative study initiative. It would be more enticing to use the app knowing users could engage with other users across the world, humanizing and personalizing the experience a little more. Plus, it would promote accountability and consistency among users and increase the app's activity.  
Duolingo is my best hobby yet. Overall, I am impressed with the efficiency of this app's learning tools. It is quick, visually appealing, and motivating which traditional classes lack sometimes. It has been absolutely stunning to watch my reading, speaking, and writing skills seamlessly become second nature. 
Leave a Comment