How to make Spaghetti Aglio E Olio
The classic traditional Spaghetti Aglio e Olio consists of only noodles, olive oil, and garlic. There is no cheese, no basil, no parsley, nothing! However, you can add the aforementioned ingredients, and give it a try after at least one taste of the original Aglio e Olio! The deliciousness of Aglio e Olio is created by the smooth and shiny sauce along with the faint garlic taste mixed with the aroma of flour. There is no longer the feeling of olive oil. That's all!
Ingredients (for 2 servings):
150-170g pasta (for 2 plates)
4 cloves of garlic
1 chili pepper (if you want it spicy)
Parmesan cheese
Parsley
Olive oil, salt, pepper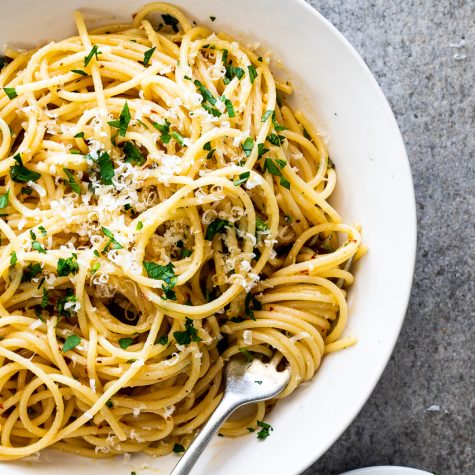 (Source: https://simply-delicious-food.com/) (ALIDA & CHRIS RYDER)
Making:
Cook the pasta according to package directions. Note that when boiling, you add a little salt to make the noodles more flavorful. After the noodles are cooked, take them out of the basket, pour in cold water, and drain it. Remember not to throw away the noodle broth.
Chili seeds removed. Minced chili and garlic.]
About 3 minutes before the noodles are about to cook, put the pan on the stove, pour in olive oil (about 1-2 tablespoons). When the oil is hot, pour in the chili garlic mixture and stir-fry quickly. Keep the fire low so that the garlic and chili peppers do not burn easily but still release the aroma.
When the garlic is golden, take it out, turn off the heat, pour the noodles into the pan, and season again. At this time, if the noodles have absorbed all the oil and you are afraid of burning the noodles, add a little more noodle broth and stir quickly.
Arrange on a plate, sprinkle some parsley and cheese on top.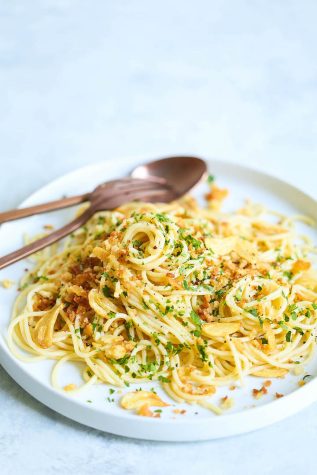 Super simple, isn't it? Here are a few tips when making it:
When boiling the pasta, keep the fire low to avoid overflowing.
If you like spicy food, add more chili, note that one chili is super spicy, even though the seeds are removed. I advise you to give 1-2 slices for fragrance only.
How to remove chili seeds: Roll the peppers evenly on a flat surface, cut off the stem end, the seeds will fall out.
If you like to eat garlic, you don't need to take it out of the pan, just leave it there and mix it up with the pasta.