Bayou City: Local Arts Festival for Family Fun in the Sun
As the United State's most premier outdoor fair, Bayou City Art Festival Memorial has made its' way back for the spring this year. Formerly known as the Westheimer Art Festival, the Art Colony Association Inc. (ACA) proposes to celebrate 50 years producing a Bayou City Festival. Memorial location in the spring and Downtown in the fall. Beginning on March 25-27, there will be opportunities for all to explore unique art experiences and education for the greater Houston area by introducing diverse artists while supporting local organizations and promoting the impact that art has on the Houston community.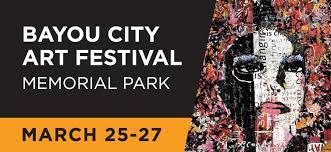 While there is more than enough to look forward to during this festival, all art enthusiasts would be ecstatic to know of the over 300 artists in attendance to showcase their large array of work. The ACA will provide a venue for attending patrons to meet-and-greet with the artists and purchase world-class art, prints, jewelry, sculptures at prices for everyone! For kids and those that are young at heart, there will be an Active Imagination Zone. Kelly Batterson, the executive director of Bayou City Art Festival, broke down where the charity proceeds will go from the donations, "The six non-profit partners: ArtReach, A Cause to Give Us Paws, Fresh Arts, Orange Show for Visionary Art, The Museum of Fine Arts, Houston, and The Women's Fund for Health Education and Resiliency."
It is for each festival that a new juror panel is invited and consists of artists, collectors, educators, curators, and industry professionals. There will be a panel of five to seven jurors that are chosen based on their specific interests, professional knowledge, and expertise in the arts as well.
What to expect at the festival? This is an open invitation to experience art: a Stella Artois Main Stage, a KPRC 2 Hitch Stage, a food truck park, a craft beer garden, The La Crema Wine Tasting, as well as additional entertainers throughout the festival. Expected guest will be artist Daryl Thetford, a mixed media artist from Chattanooga, TN. One of the best factors about this event is that the Art Colony Association, Inc. has raised more than $3.6 million for local nonprofit programs from the proceeds of its' festivals. These festivals are funded partially by grants from the City of Houston through the Houston Arts Alliance, by corporate sponsorships, private contributions, support and volunteer assistance. This is a wonderful chance for Houstonians to check out this event for the sake of trying something new, a date idea, or a relaxing day out with the family.