Houston's Piñata Queen: Meet Lisette Guerra
Infamously known as "THE Piñata Lady!"–Lisette is being recognized for her legendary influence in the music and art scene during International Women's Day.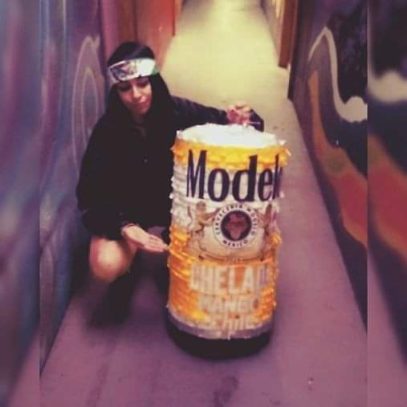 What if the core memories of your childhood led to making new ones for an entire community in your city? This is Lisette Guerra's story.
A Houston native giving back to the local art and music scene through the pride and rebirth of her humble beginnings and Mexican heritage. As events and shows make their way back onto our calendars, Guerra has been showered with appreciation for her creative twist on piñatas for  birthday parties, sporting events, corporate parties, holidays, memorials, shows, and many more.
Guerra has swiftly become one of the most genuinely loved artists in Houston. Whenever she creates a piñata, she is sharing a part of culture that has been passed down to her by her mother and began to do the same for her beautiful children.
"
More importantly now after escaping from domestic violence in an abusive relationship for 7 years after a childhood full of trauma and confusion, that really means something to me and my family because being the piñata lady now and achieving my dreams? This is my new beginning.
— Lisette Guerra
The local DIY scene praises Guerra from venues such as Trip Six and the House of J, but doesn't stop there. Her life-like piñatas has reached and connected with so many, that her business has been high in demand for almost every event to come. The next two events where you can get a glimpse of Guerra's handmade piñatas will be scheduled at the Soul Sessions art market on Sunday, March 13, and at Trip Six on Monday, March 14.   The deemed piñata lady has had such an invincible impact on educating and enlightening others on breaking social norms, and adopting a true insight on how important it is to embrace different cultures.
I spoke with the Piñata Lady about–of course–piñatas, but also motherhood, and hopes for the future.
What was your introduction into the culture of piñatas like? 
When I was a small kid, my mother would take us out to Mexico with her every chance she got to stay at her mothers house near Cerro De La Silla in Monterey, where she worked for spare income in a Piñata shop next door.
What drew you to them and what was your first experience making them like?
You could say it's one of my "Core Memories," sitting on the dirt floor of this humble little shop watching my Mom create and cover these tissue papers shapes and characters, mixing the water paste glue while she hummed softly. This came to be a very consoling/comforting moments in my childhood; I looked forward and clung to them as ways to brighten my world. So after when I became a mother myself, I never had much to offer my children but a bit of hope and happiness in hand-making them piñatas for their birthday, since I didn't have much else to offer, I still wanted to make their day special. And of course, it was like riding a bicycle, my brain had saved it all in the data base, the piñata making process, and it felt right.
We all hold sentimental value behind what a loved one has taught us, is there a memory that you try to keep alive for them?
When I get the opportunity to make Piñatas for a bands show, it also feeds my inner child to see all these grown ups giggle and fight, push and scramble to scrape up the best goodies: I know their inner child is happy and it makes me feel like we're all friends at a birthday party in the 90s. I never had a birthday party or even my own Piñata as a child, so this is especially significant for me.
How has being a mom affected you selling art and following your dreams?
It has had a positive impact on me, especially the childhood I had and the way I feel I was robbed of my dreams: there were times as well where I had my creativity shut down and told I was nothing, so I never really felt encouraged or like anyone was proud of my accomplishments. So as a mom now and having the opportunity to follow my dreams at the same time, it fuels my passion even more because I know they are watching me and I want to give the best example I can that they can reach for the stars and do whatever their heart tells them in life, so that I can tell them I'm proud of them every step of the way.
What is the traditional significance? Talk to the readers a little about it's cultural origin and it's significance to your family.
So traditionally, piñatas in Mexico started out just being for Christmas, "la Navidad" and "Noche Buena." Something about the stick representing love, and the treats pouring out represent new life, hope, rebirth, beginnings. More importantly now after escaping from domestic violence in an abusive relationship for 7 years after a childhood full of trauma and confusion, that really means something to me and my family because being the Piñata lady now and achieving my dreams? This is my new beginning.
What would be your dream event, artist, or band to do a piñata for?
Well, number one would be and HAS BEEN was being able to make one for Piñata Protest, a Tejano-punk fusion band from San Antonio, Texas. That was such an amazing experience and opportunity for me as they are one of my favorite bands. Any other band in the local music scene, honestly because I look up to and am inspired by everyone so much.
Is there anything else you wanted to add or say to our readers?
To honor International Women's Day, as a woman who escaped a domestic violence situation that I truly believed I would die in, I just want girls, women, all my She's and They's to know that there is hope, it is possible. We are stronger than we think and if I made it out alive, doesn't matter how long it took me, you can too. I gave up on life and my dreams and I'm out here kicking butt and doing the damn thing, I'm living again and so can you. There is hope and help whenever you are ready.
I'd like to give a very special shout out all our local favorite DIY Venues keeping the music scene thriving and vibing, like all my lovely friends at Trip Six and House Of J! People like notorious Johnae Whitaker, of course the beautiful Alberta Zemyra, photographer Christopher Trahan, etc. All friends who inspire me and push me to do my very best. I'm honored to be part of such a bad ass community, and I would be nothing without their love and support.
If anyone is interested in supporting The Piñata Lady and keeping this new-born tradition alive, you can find her on Instagram at @lisespieces138 or @spit.rex.
*This interview has been edited for length and clarity.