How The Brian Flores' Lawsuit Against The NFL Is Important During Black History Month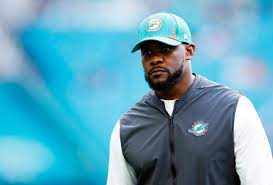 This time during Black History Month there's a lot of talk of historical black figures that have impacted certain types of industries. In the NFL there are not that many black historical figures when it comes to NFL leaders like head coaches, general managers, owners and etc. Since the NFL and AFL merger in 1966, there have been over 500 head coaches hired and only 24 of those head coaches have been African American that's .048% of all head coaches.
In 2003 the NFL adopted the Rooney Rule which states that every NFL franchise with a head coaching vacancy should interview at least one or more diverse candidates for the head coaching position. In 2009 the policy also expanded to vacant front office positions as well. The Rooney Rule was adopted to give more diversity into NFL leadership positions after the league's own Workplace Diversity Committee found out that not many diverse candidates were being interviewed for head coaching vacancies. In 2020 the NFL owners came to an agreement that if you developed minority talent who ends up becoming a general manager or a head coach your team would receive a third-round compensatory pick for two years.
So why is Brian Flores suing the NFL if there's the Rooney Rule in place? Flores is suing the NFL,  Miami Dolphins, Denver Broncos, and New York Giants citing multiple allegations to those teams. One specific allegation was to the New York Giants which stated that they only interviewed Brian Flores only to fulfill the Rooney Rule and that they already had found their next head coach even before Flores interviewed for the job. Which is a loophole that many NFL teams have found just to fulfill the Rooney Rule requirement.
So the reason why this lawsuit is important during black history month is that Brian Flores is trying to get a fair opportunity for a head coaching job, not just for him but all African American head coaching candidates. If this lawsuit requires the NFL to make big changes regarding the hiring process for minority coaches and other policies regarding minority coaches. Brian Flores can be looked at as someone who changed the NFL  industry in a positive way and 100 years down the road he could be remembered for creating a clearer path for African American NFL assistant coaches to become head coaches in the NFL.