CDC recommends COVID boosters for all adults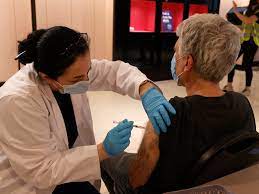 CDC Director Rochelle P. Walensky recommends getting a third shot of vaccine for all adults. The booster ensures additional protection and prevents the further spread of the virus. Vaccines are available for all adults, but some risk groups should get vaccinated especially:
According to CDC, booster shots are also recommended for those who are 18 and older and who were vaccinated two or more months ago. The Advisory Committee on Immunization Practices voted for the policy which says that people over 50 should get vaccinated a third time if 6 months or more have passed since the day you received the second vaccine.
There are opportunities to get a booster with a vaccine that was previously inoculated, or with another vaccine – such mixes are now allowed. CDC reports that 65 million Americans are still unvaccinated and pose a risk to their children and elderly relatives. The Centers call for vaccinations to ensure safety in the community.