Texas-born singer Kelly Clarkson to nurses from UT Health: "We really appreciate you!"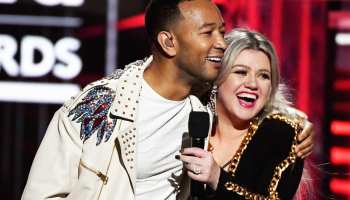 Kelly Clarkson praised four nurses from UT Health San Antonio on her show in "What I Am Liking" segment. The nurses appeared as dancers in a video of 9-year-old Darcy who is now receiving treatment at UT Health San Antonio.
Clarkson had already met Darcy on her show a month ago and the young patient asked her to give the nurses a "Texas-sized shout out" for their work.
Clarkson FaceTimed with four nurses and talked about their patient Darcy, their work, and thanked them for their service. Nurses told how they are delighted with Darcy, one of them said: "She's just a sweetheart. She's always in a charming mood. She's just an incredible person. And, even on the worst days of her treatment, she's always smiling and in a happy mood. "
The nurses said that they danced for Darcy "just to make her happy". Kelly thanked the nurses for their hard work over these two difficult years and gave them $250 each of them thanks to the partnership with Pilot Pen.