Former NFL Player Arrested For Abusing The Mother Of His Child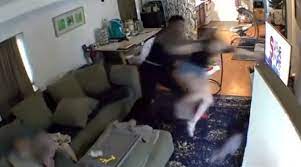 Former NFL player Zac Stacy has been arrested, following the release of a viral video where Stacy was seen physically abusing his ex-girlfriend, Kristen Evans, in front of his 5-month-old infant son at her home in Florida. Stacy was detained on Thursday evening at the Orlando International Airport after he arrived on his flight from Nashville, Tennessee according to the Orlando police statement.  He was arrested on the count of domestic violence case and was wanted for an aggravated battery warrant from the town of Oakland.
The Oakland police responded to a call from the home of Stacy's ex-girlfriend on Nov. 13, according to the warrant. Kristen told officers that Stacy had been at the home earlier to see their 5-month-old son, and at some point, they both began to argue, which in turn led to Stacy physically attacking the woman according to the police.
The security video from inside the house shows Stacy striking Evans multiple times and even throwing her into television and onto the ground. Detectives noted in their report that the woman tried to remain as calm as possible throughout the attack but continued to plead with Stacy to stop as their son continued to cry from fear. This case has gained attention this week after Kristen posted the security video on her Instagram account, which has now been removed by Instagram.
Stacy remains fearful for her life and has been moved to a secure location. The judge set Stacy's bond at $10,150 on felony charges of aggravated battery and criminal mischief.