Let It Snow! Excitement to Dread in 24 Hours
It really is hard to fathom how blindsided we were by the winter storm, Uri. Friday, Feb. 12 was like any Friday. Colleagues chatted about weekend plans until the clacking of our manager's heels quieted everyone down.
"Hey guys, we are letting you know the company is monitoring the forecast for Monday. If it is too dangerous for you to come in, please let us know. However, as of right now, we still plan to be open on Monday."
Everyone voiced their understanding and away she went, the sound of her heels fading as she turned the corner. The news of the 75-100 car pile-up near Fort Worth had just been reported the day before.
The weekend was cold but tame. I shuttled my mom around and ran errands until Sunday night I got a text. "We will not be open Monday." Nice. It'd been a bit rainy but not too bad.
Monday morning my husband called out to me excitedly, "Come look! It's snowing!"
We took a walk outside to enjoy the rare sight. It looked like Christmas in February. It seemed fitting since I hadn't taken those decorations down. I picked up some snow with my unprotected hands and immediately dropped it. Nope, too cold.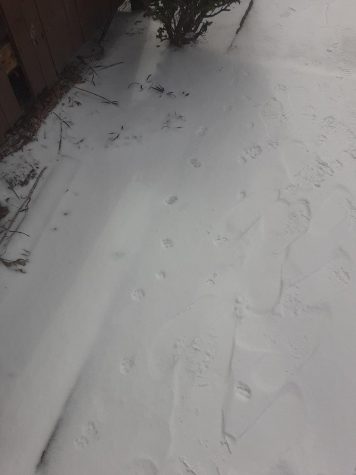 My husband finished walking the dog and headed back inside, but not before pelting me with a few snowballs and laughing at me. A rare moment indeed.
Another text came through. "We will not be open on Tuesday."
The snow hit the fan after that.
Tuesday, I fiddled with my phone as I tried to watch the newscast. I enjoyed the impromptu time off with my husband but I needed to work. I became annoyed with the spotty internet and called my mother instead but she couldn't hear me.
Our lights flickered off, taking with them our ability to cook, our warmth and our Wi-Fi.
We weren't prepared for this. I looked for emergency supplies from the last emergency and found candles, a Ziploc bag full of matchbooks and expired granola bars. My husband found some Sterno canned heat. I looked around the fridge and asked if it would be a good idea to put some stuff in the patio since it was in the 30s outside.
When I'd called CenterPoint Energy that morning to report the power outage, the machine advised me to be prepared to be without electricity for the rest of the day. After putting a gallon of milk and yogurt outside, we headed to the store to replenish supplies. We carefully stepped over the ice-covered patches and picked the ice off our car. I used my husband's phone to ask my sister to look up the emergency radio station for notifications and listened intently. We didn't believe these conditions would last more than a day.
We made sure to avoid the patches of gray sludge and ice on the roads. Most intersections became a four way stop. Most places were closed. We passed a fire hydrant that had burst, making an ice wall that hung off the surrounding trees. Passerby posed and casually took pictures in front of it.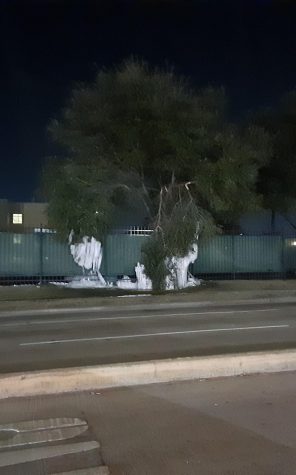 At H-E-B, the line wrapped around the strip of stores next to it. Flashbacks of the beginning of the COVID pandemic crossed my mind and we got back in the car to try somewhere else. I drove for 40 minutes before I gave up and made my way to Whataburger, which was still open.
In our perilous quest for short lines, we'd witnessed several cars slide and bump into one another in the underpasses. The shade had prevented the snow in the underpass from melting completely.
I turned carefully over the uneven ice and immediately lost control. The car swerved from one side to the other. It lasted only a few seconds but I didn't know what the outcome was going to be. It was a horrifying experience. Thankfully, that's all it was.
After that scare, we decided to go to a store closer to our house, but after 15 minutes, an employee came out saying, "Cash only!" After some disgruntled purse-digging and profanity, we reluctantly stepped out of the line and headed back to H-E-B.
Hungry and frustrated, we made our way to the end of the line. To our surprise the line moved relatively fast. In about 15-20 minutes we were inside the store. Entire sections were completely empty and they didn't have water. We picked up some snacks, juice and a few canned goods to hold us over until the next day.
Back at home, we ate our snacks in relative silence. My husband would not stop staring at his phone, trying to will it into loading a video to ease his boredom. We talked about how we would download movies for next time. My phone buzzed. No work Wednesday. My heart sank, we won't make rent for sure.
Later that night, we sat in the cold, dark living room, lit only by three small candles. My husband decided to use the Sterno cans to cook some bacon on a pan on the grill. It was surreal and eerie how dark it was. As he was cooking in the patio using his tablet for light, the electricity flickered back on.
We were so happy we hugged it out. He finished cooking the bacon on the stove and filled as many containers as possible with water so we'd be able to flush. I decided to try my email again and was excited to see the data work, but the work email simply said to return Monday. An entire week worth of pay, gone.
The lights went out one more time as reports of rolling blackouts, deaths due to the cold and sky-high electricity bills made the news. ERCOT came under increasing scrutiny.
By Friday, the water was back but still under a boil water notice. Even so, we were glad we were fortunate enough to not have a pipe burst on us. It marked the end of a dreadful week, the consequences of which were still not over and, like me, would set a lot of people off financially.